for*ward prog*ress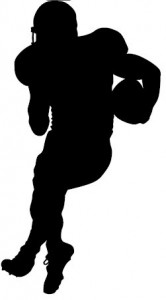 Definition Of Forward Progress
1. This is a term used to describe the location from where a ball carrier's momentum takes them before they are tackled by a defensive player. The spot where the player is marked down, is where the play ends and where the next play begins.
Forward progress is often cited for when a player is pushed back after they are initially met by a group of defenders. For example, if a running back is stopped by defenders at the 10-yard line and the defenders then push and carry the ball carrier back to the 20-yard line before being brought down, the referees will cite forward progress and will spot the ball at the 10-yard line since that is the location where forward progress was halted.
Examples Of Forward Progress
1. Lewis tries to plow through the wall of linebackers, but is stood up and pushed back 10 yards before the whistle is blown by the officials, who bring the ball up to the 30 yard line where forward progress was stopped.
Sports The Term Is Used
1. Football
(Visited 29 times, 1 visits today)