free hit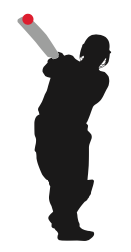 What Is The Definition Of Free Hit In Cricket?
1. Another delivery given after the bowler bowls a front foot no-ball or full toss. This penalty is only awarded in certain forms of cricket, primarily Twenty20 and One Day Internationals. For the extra delivery that is bowled, the batsman cannot be dismissed by the bowler and fielders may not change positions on the pitch. The umpire signals this penalty by making circular movements in the air with one raised hand.
Examples Of How Free Hit Is Used In Commentary
1. They awarded Hugh a free hit after that front foot no-ball.
2. Paulson has given away far too may free hits during this match; he'll likely be replaced soon.
Sports The Term Is Used
1. Cricket
----------------------------------------------------------------------------------------------------