hack
What Is The Definition Of Hack In Cricket
A disparaging term for a batsman of low skill. Typically, a hack approaches the ball very aggressively in order to compensate for a lack of skill. Occasionally, this term is used to described one particular attempt by a batsman.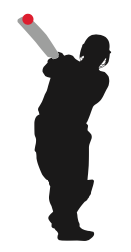 Examples Of How Hack Is Used In Commentary
1. York is a complete hack; he has yet to hit anything other than the occasional slog.
2. Reed is usually an excellent batsman, but that last stroke was a hack.
Sports The Term is Used:
1. Cricket
----------------------------------------------------------------------------------------------------