han*di*cap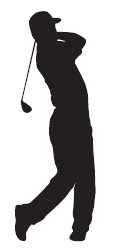 What Is The Definition Of Handicap In Golf?
A golf handicap is a number that represents a player's skill level. A player's handicap is applied when scoring the game, allowing players of differing abilities to enjoy a competitive match. The more skilled a player is, the lower their handicap will be.
When scoring, a golfer's handicap is used to reduce their total number of strokes taken during that round. For example, a player with a handicap of 10 may have taken 85 strokes on an 18-hole course, so their gross score is 85. Once the handicap is applied (by subtracting 10 from 85), they get a net score of 75.
A handicap is determined based on recent scores, taking into consideration each course's difficulty level. For each of those scores, a calculation is applied to obtain a handicap differential:
(Score – Course Rating) x 113 / Slope Rating
Golfers average the handicap differentials from the 10 best scores from their 20 most recent rounds. The resulting number is the player's handicap index. That number can be used as a general handicap when scoring. On more difficult courses, however, a course handicap may be applied. This means that a player should use a higher handicap to compensate for the increased difficulty level of the course. For example, on a course with a high course rating and slope rating, a player with a handicap of 10 may be advised to play that course with a handicap of 14.
Golfing associations around the world use different systems to determine handicap. As a result, a World Handicap System (WHS) was launched in 2020 to ensure that golfers can compete fairly on courses in any country.
Examples Of How Handicap Is Used In Commentary
1. Some of the amateurs in this tournament have been playing with a handicap of two or less for years as they've refined their skills.
Sport The Term Is Used:
1. Golf
----------------------------------------------------------------------------------------------------