I for*ma*tion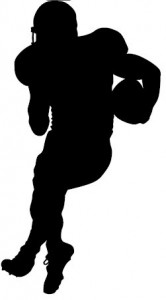 Definition
1. This is an offensive formation in football where the fullback and running back line up directly behind the quarterback in a straight line. The quarterback lines up under center, and three yards behind him is the fullback, and two yards behind him is the running back.
The shape the players form while lining up directly behind each other resembles and "I".
Example
1. One third and one, Sanders lines up behind his fullback in the I formation, ready to take the handoff.
Sport The Term Is Used
1. Football
(Visited 92 times, 1 visits today)