in*side out fore*hand
What Is The Definition Of Inside Out Forehand In Tennis?
1. An inside out forehand is a tennis shot in which a player makes a forehand shot from the backhand side of the court.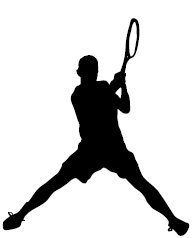 In order to get in position to make this shot, the player must shuffle their feet very quickly to get on the outer side of the ball, which has resulted in the shot's nickname as the "runaround forehand." Although it's tough to get in this position in time, a player with a stronger and/or more accurate forehand may gain an advantage by switching to this shot when trading backhands with an opponent.
Examples Of How Inside Out Forehand Is Used In Commentary
1. This is not the first time in this tournament that Federer has used an inside out forehand to startle an opponent with a powerful shot.
Sport The Term Is Used:
1. Tennis
Also Known As:
1. Runaround forehand
----------------------------------------------------------------------------------------------------