K*O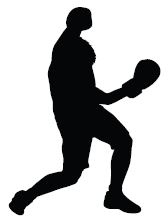 What Is The Definition Of K.O. In Boxing & MMA?
1. This is the abbreviation for knockout. A K.O. (knockout) occurs when a fighter is knocked to the floor and is unable to get to their feet before the referee reaches a count of 10.
Examples Of How K.O. Is Used In Commentary
1. This victory marks number 12 for his career and his ninth by K.O.
Sport The Term Is Used
1. Boxing
Also Known As:
1. Knockout
----------------------------------------------------------------------------------------------------