long jump
What Is The Definition Of Long Jump In Track & Field?
1. Also known as a type of horizontal jump, the long jump is a track and field event in which athletes attempt to run and leap as far as possible into a regulation-sized sandpit.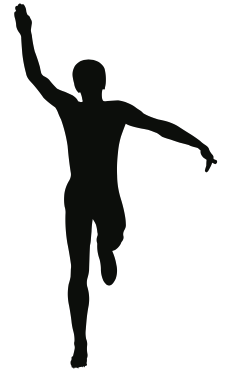 What Are The Stages Of Long Jump?
The stages of a long jump are the run-up, the takeoff, the flight, and the landing. 
Competitors start with an approach run of 40m and then jump from a level 20cm-wide take-off board at the end of the runway. Then, the distance of a jump is measured from the foul line to the first indentation of sand where the jumper landed. 
What Are The Rules Of Long Jump?
If an athlete's foot passes the foul line on the take-off board before jumping, this is a foul. Jumpers can place up to two markers on the runway to aid their form. 
In large competitions, such as the Olympics, competitors typically get six jumps. In other long jump events, competitors get three jumps. Their longest distance is then recorded and used to determine the winner. 
What Is The Longest Long Jump?
The world record for the longest long jump is 8.95 m or 29 ft ¼ in. Mike Powell has held this record since 1991. 
Example Of How Long Jump Is Used In Commentary
1. Bob Beamon's "perfect jump" is currently the longest-standing Olympic athletics record. His long jump performance in the 1968 Mexico City Olympics even sparked the term Beamonesque, meaning an unbelievable athletic feat.