mo*ney*line
What Is The Definition Of Moneyline In Sports Betting?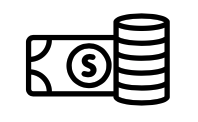 1. The moneyline is simply the odds of winning for each team. In sports betting, the numbers are displayed as a positive for the underdog and a negative for the favorite. Betting on the winning team will ensure a payout. 
What Happens When You Bet $100 On A Moneyline?
The result of betting $100 depends on the odds and the team bet on. The favorite odds are how much must be bet to turn $100. If one bets $100 on the favorite, the resulting payout upon a win will be a proportion of $100 back, as all favorite odds require more than $100 to be risked in order to generate $100.
In contrast, betting on the underdog will almost always turn a profit. The odds are listed in a positive format and represent the payout for betting $100. 
How Are Moneylines Calculated?
Moneylines are calculated according to the probability of each team winning, based on the circumstances given. 
How Is A Moneyline Payout Calculated?
A book calculates a moneyline payout by the ratio of odds to wager on top of returning the money wagered. Underdog wins are easier to determine because the books list the odds as a function of $100 wagers. For example, if one bets $100 on +150 odds, the winnings include the original $100 wager plus the $150 winning.
For wins on a favorite bet, the wagered amount is divided by the odds and multiplied by 100 and added to the wagered amount. For example, if one bet $165 on -110 odds for the Los Angeles Dodgers, the winnings would sum to $315: $150 in winnings plus the original wagered amount of $165.
See More Sports Betting Lingo