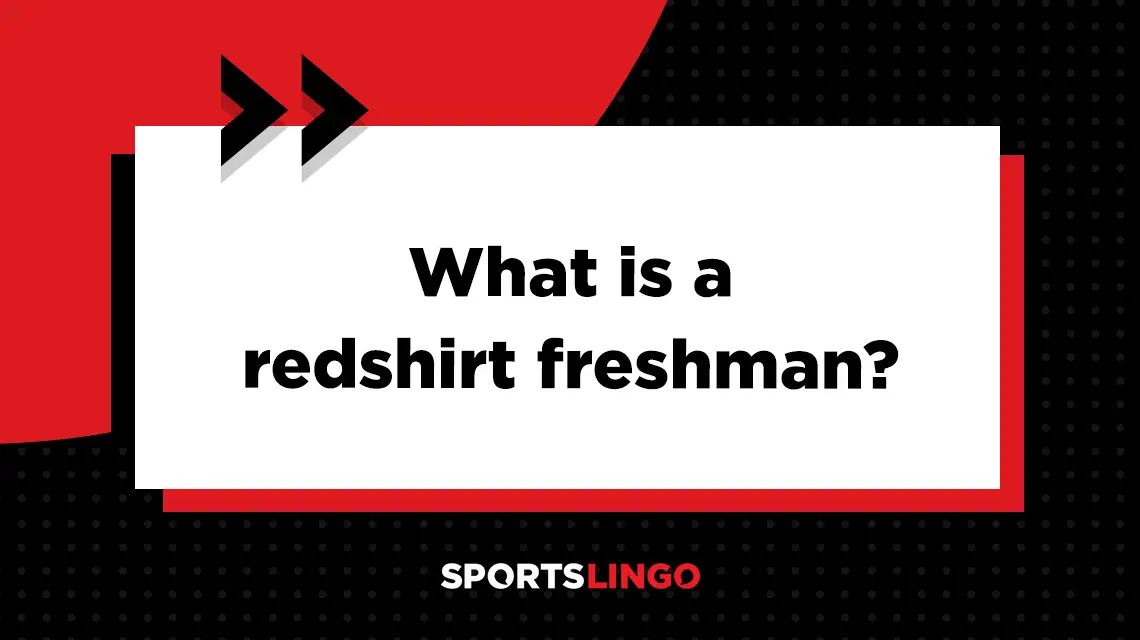 red*shirt fresh*man
What is the definition of a redshirt freshman in college sports?
1. A redshirt freshman is a college athlete who plays their first athletic season during their second year at the school. They are a "freshman" in terms of athletic eligibility while being an academic sophomore.
During their first year at the school, redshirts practice with the team but do not participate in actual games. This is opposed to a true freshman, who competes in games during their first year.
Why are they called a redshirt freshman?
The first recorded use of the word "redshirt" in the context of college athletics was in 1955. Today, it is a common practice for many National Collegiate Athletic Association (NCAA) college sports programs.
The term is believed to have originated in 1937 at The University of Nebraska when Warren Alfson asked to stay on the team as a freshman but not play in any games. Since the Nebraska Cornhuskers wear red uniforms, Alfson wore a red shirt during practice.
What does being a redshirt freshman mean?
Student athletes designated as redshirt players join a team upon entering college, but they spend their first year only practicing with the team and not playing in official games. Being a redshirt means being a member of the team, but not competing.
During their next year at school, they begin playing their first season as "freshman" in terms of athletic eligibility, which is limited to four seasons over five years for NCAA Division I college athletes. These athletes will go on to be fifth-year seniors if they play for the next four seasons in their sport.
Why does someone become a redshirt freshman?
College athletes may become a redshirt freshman because they might not get to play much during their freshman season and don't want to use one of their four seasons of athletic eligibility.
Another answer to "Why do players get redshirted?" has to do with sports injuries. A college athlete could be recovering from an injury sustained during their high school athletic career, and a redshirt season gives them more time to recover.
What are the benefits of redshirting?
A common question is "Why would a player redshirt?" There are a number of ways in which an athlete can benefit from being redshirted, including:
Gaining practice time: Academic freshman can practice with the team during their redshirt season, which helps them develop their skills further before competing in official games.
Building strength: Many redshirt freshmen spend time in the weight room during their first year in college. This allows them to build up size and strength before they compete against other college athletes.
Learning plays: In certain sports, the redshirt season provides extra time to learn the team's playbook before competing. This is especially common for college football players, who need to memorize an extensive playbook to prepare for official games.
Enjoying academic benefits: Players who are on athletic scholarships can receive those scholarships for all five years at school if they start as a redshirt freshman and end as a fifth-year senior. The extra year at college is beneficial for college athletes who want to prioritize their education and take advantage of an extra year of classes subsidized by their scholarship.
Adjusting to college life: The academic rigors and social facets of college life can create a difficult adjustment period for some students. Without the pressure of also competing in college sports, redshirt freshmen get more time to settle in at school while still participating in their college team through practices and training.
Is it good to be a redshirt freshman?
In many cases, being a redshirt freshman can work in a college athlete's favor. It gives them more time to practice, which helps them develop their skills and become a better player by the time they start competing in their academic sophomore year.
In addition, redshirting may ultimately lead to more playing time for an athlete. If the team already has too much depth for a specific position, a rookie player may not receive much playing time. Redshirting provides time for other players at that position to graduate or get closer to completing their college careers, which means that the redshirted player will likely receive more playing time down the line.
Are all redshirts freshmen?
Most redshirts are freshmen who don't begin competing official until their sophomore year. However, there are a few exceptions along with other types of "shirt" statuses which may be given to college athletes.
Medical redshirt
While not technically a redshirt freshman, a player with a season-ending injury can take a medical hardship waiver during any year and sit out a season without losing a year of eligibility. These players are commonly referred to as medical redshirts. In order to get the hardship waiver, a player must appear in less than 30% of competitions and not participate in games past the season's midpoint.
Academic redshirt
An academic redshirt is a student athlete who must be redshirted for their first year at school because they did not meet the high school academic requirements to participate in college sports.
This type of redshirt was created in response to an NCAA rule that went into effect in 2016. According to the rule, NCAA student athletes must have a minimum GPA of 2.3 across four years of high school. If they don't meet this standard, they may join a team as an academic redshirt, which means they can practice with the team and receive an academic scholarship but not compete in games. As long as they complete nine credit hours in their first semester of college, they are eligible to compete beginning in their sophomore year.
Grayshirt
A grayshirt refers to a college athlete who is an unofficial member of the team. A grayshirt is not a full-time student or an athletic scholarship recipient.
This status is used by athletes who need additional time before joining the team due to an injury right before college, military service, or religious obligations like missionary work. Once they are ready to play, they still have the option of redshirting.
In some cases, teams take advantage of grayshirting when they have exceeded their number of available scholarships, but still want a player to eventually join their team.
Blueshirt
A blueshirt is a walk-on college athlete. This means that the player was not actively recruited by the school. The players are able to start competing as a team member right away, and they become eligible for scholarships after they enroll.
Greenshirt
A greenshirt is a college athlete who enrolls early after graduating from high school in December of their senior year. For those in fall sports, like college football, greenshirting gives the player extra time to practice with the team and a chance to get ahead on their classes before they begin competing at the college level.
Pinkshirt
Pinkshirting is a policy that allows female athletes to miss a season due to pregnancy. Their eligibility is deferred to the following year so that they may still compete for a total of four seasons.
What does a redshirt freshman do during the season?
A redshirt freshman practices with their team throughout the season. Many also participate in strength training, study the playbook, and take part in social events with the team.
Do redshirt freshmen travel with teams?
Most redshirt freshmen do not travel with their team to away games due to budget limitations.
How long does a redshirt freshman's eligibility last?
A college athlete is permitted to be redshirted for one season only according to NCAA rules. After that, they have four more seasons in which they are eligible to compete.
Do redshirt freshmen have to pay tuition?
Redshirt freshmen still have to pay tuition. However, during their redshirt year, they are eligible for athletic scholarships, academic scholarships, and financial aid.
What's the difference between a freshman and a redshirt freshman?
A regular freshman college athlete begins competing during their academic freshman year. A redshirt freshman only practices during their first year at college, and they begin competing in their academic sophomore year.
Are there redshirts in the NFL?
Although redshirt freshman can be included in most college sports, the term is most closely associated with American football. In the NFL, there is an unofficial redshirting practice which involves giving rookies very limited time on the field in their first year on a professional team.
Redshirting may help certain NFL rookies who need additional time to gain strength and develop their skills before competing at the professional level. It also provides time to transition from college life to the demands of professional sports.
Example of how redshirt freshman is used in commentary
1. You can really see her redshirt freshman year paying off as she's dominating the conference as just a sophomore in The University of North Carolina's women's soccer program.
Sports the term is used
The term redshirt freshman is used in almost all college sports, including:
1. Football
2. Basketball
3. Soccer
4. Softball
5. Volleyball
6. Lacrosse
7. Numerous college sports
----------------------------------------------------------------------------------------------------