slip*ping
What Is The Definition Of Slipping In Boxing?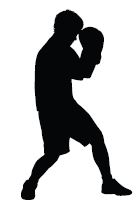 1. Slipping is one of the common defense techniques in boxing, mixed martial arts and other combat sports. Similar to the bob and weave, slipping occurs when the defending fighter moves their head side-to-side in order to avoid, or let the punches "slip" by, their head.
Example Of How Slipping Is Used In Commentary
1. Mayweather has been masterful of slipping punches all night, making his opponent grow fatigued with all the misses.
Sports The Term Is Used
1. Boxing
2. MMA
3. Combat Sports
----------------------------------------------------------------------------------------------------