snow*plough
What Is The Definition Of Snowplough In Skiing?
1. The snowplough is a term used to describe a turning and stopping technique for beginning skiers. It gets its name for the "V" shape of a truck's snowplow.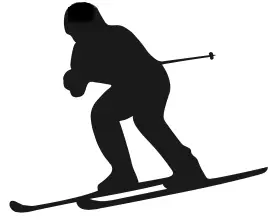 By positioning their skis in a "V" shape, where the front tips of the skis are together and the tails are wide apart, with their knees rolled inwards slightly, the skier is able to brake and turn easily. By applying pressure to the inside edges of their skis, the person is better able to control their speed and therefore they're able to make slower turns and come to a complete stop if need be.
Examples Of Snow Plough
1. With this being his first time on a ski slope, James opts to go on the bunny slope where he can learn how to turn and stop using the snowplough method.
Sports The Term Is Used
1. Skiing
Also Known As:
1. Pizza slice
2. Wedge turn