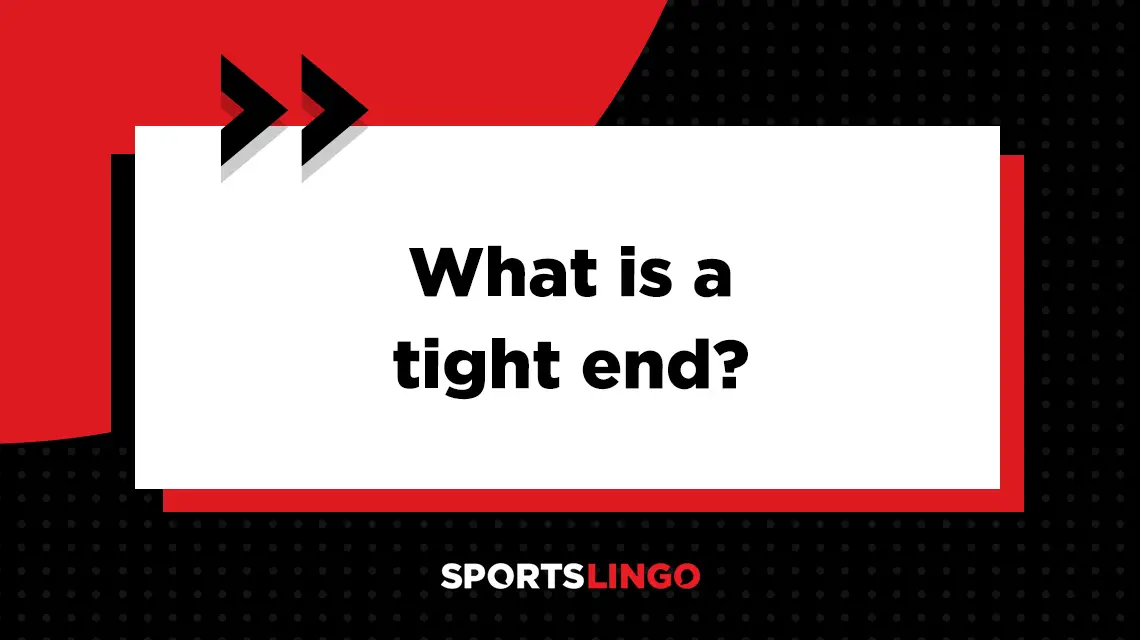 tight end
What is the definition of tight end in football?
1. The tight end is a position player in football. The tight end position is more of a hybrid position as it requires the player to be an effective blocker along the offensive line as well as an effective pass catcher.
Due to their size and skill, a tight end will either line up alongside the offensive line or will stand separate from the offensive line in the slot as a receiver.
Why do they call them tight ends?
The standard position for a tight end is at the end of the offensive line next to the tackle. Since the tackle is the last player (end) on the offensive line and the tight end typically lines up close (tight) to that position, they are called the tight end.
What does tight end mean in football?
The tight end combines the roles of an offensive lineman and a wide receiver. Players in this position must possess multiple skills to fulfill versatile roles on the field.
What is the role of a tight end?
The tight end's role is to help the offense successfully move the ball forward on the field. Their goal is to ensure that the quarterback is able to complete their pass or that rushing players are capable of moving past the defense. Occasionally, tight ends receive passes from the quarterback and move the ball forward themselves.
What are the responsibilities of a tight end?
A tight end's job is to help the offense advance on the field. This involves two main responsibilities: blocking and receiving.
Making blocks
When the tight end is positioned closely with the offensive line, they often focus primarily on making blocks for the running backs. Tights end often block for receivers and running backs. By preventing their opponents from advancing, they protect the quarterback and allow other players to receive and rush the ball more effectively.
Receiving the ball
Tight ends are also eligible receivers, which means they can catch passes from the quarterback on offense. They can run into open space or follow drag routes for passing plays. Many even score touchdowns, although wide receivers and running backs generally score touchdowns more frequently than tight ends.
What are the different types of tight ends?
There are a few different types of tight ends which can be categorized by a player's primary skills.
Blocking tight ends
The primary responsibility of many tight ends is blocking. Tight ends who specialize in this skill tend to be larger and stronger, and may not have the speed required to catch passes and make runs on the field on a regular basis.
Receiving tight ends
For many tight ends in the past, receptions were infrequent, and they mostly blocked in offensive plays. The role slowly started to incorporate more receiving, and today, some tight ends specialize more in this skill than blocking. Tight ends who mainly catch passes are often slightly leaner and faster than those who primarily block.
Hybrid tight ends
Tight ends who are equally skilled in blocking and receiving are considered hybrid tight ends. They have the strength and size required to successfully block defenders, but they're still quick enough on their feet and have a wingspan that allows them to be great receivers. A true hybrid tight end is highly prized by head coaches and can be a major asset to their team.
What are the qualifications to be a tight end?
The following tight end characteristics are essential to the position:
Size and strength: Tight ends are among the larger and stronger players on a football team because they need to be capable of blocking some of the strongest defenders on the opposing team. They are usually taller and have a wide wing span.
Speed: Tight ends need to be moderately quick on the field. They aren't the fastest players on the team, but they need to be able to get open for passes from the quarterback when necessary.
Power: It's important for tight ends to be powerful enough to block some of the toughest players on the other team.
Coordination: Successful tight ends are able to catch most balls thrown their way with a strong grip and good hand-eye coordination.
Where do tight ends line up? 
Traditionally, tight ends lined up at the end of the offensive line. Blocking was originally the primary responsibility of a tight end, so this close positioning with the offensive line created faster contact with defensive players. When making runs, tights ends had relatively short drag routes most of the time.
In more recent years, however, the tight end position in football has been changing. As the sport has become more focused on passing, tight ends have become more athletic and increasingly focused on pass-catching.
Because of this, they often line up in a standing position with more space between them and the offensive line. This is opposed to a classic three-point stance when they are on the offensive line. The standing position and extra space from the offensive line along the line of scrimmage creates more room to run a seam route to can receive a catch. These receptions often come at the end of longer runs compared to previous years.
What is the difference between a tight end and a wide receiver?
Tight ends are responsible for blocking and receiving, while wide receivers focus primarily on receiving. While wide receivers occasionally block, they are typically matched up against smaller cornerbacks that don't present too much of a challenge to them in terms of size and strength. When tight ends block, they are matched up against large defenders who are some of the strongest players on the opposing team.
Compared to tight ends, wide receivers typically line up closer to the sideline than to the rest of the offensive line. This gives them more space to run for deep passes. When tight ends receive passes, they often involve shorter throws from the quarterback.
Typically, tight ends are stronger and larger compared to wide receivers. While speed is important to their position, tights ends aren't as fast as most wide receivers.
What is the difference between a tight end and a running back?
Tight ends are blockers and receivers on the field, while running backs mostly rush the ball after it's handed to them by the quarterback. Running backs are skilled at advancing the ball down the field while it's in their hands. Tight ends don't often rush very far once receiving a pass.
When lining up before a play, tight ends are positioned near the end of the offensive line so they can either block defensive ends and linebackers or run to catch a pass. Running backs are usually positioned directly beside or behind the quarterback so it's easy to pass off the ball or block for the quarterback if necessary.
Tight ends are typically stronger, bigger and taller than running backs due to their blocking responsibilities. Running backs tend to be shorter and smaller since a lower center of gravity and lighter weight helps them to be more agile for running the ball. There are similar differences between tight ends and fullbacks, although fullbacks are generally a little larger in size.
When did tight end become a position in football?
Tight ends started to become a position in football when rules that required players to play both offense and defense began to be relaxed in the 1940s. The same traits that make tight ends an offensive asset today made them a defensive liability back then. They didn't quite fit the mold.
But when players became able to exclusively play offense or defense, players that were good blockers and good pass catchers started to fill a crucial role. The position began to gain even more prominence in the sport in the 1960s with tight ends like Mike Ditka and John Mackey.
A couple decades later, the position began to transform with players like Kellen Winslow of the San Diego Chargers and Shannon Sharpe of the Denver Broncos and Baltimore Ravens. These players would sometimes run to receive passes similar to a wide receiver, which added a level of unpredictability to the tight end position and made teams more competitive in the league.
Who are the best tight ends in football?
Some of the best and most versatile tight ends in recent NFL history include:
All of these NFL tight ends have demonstrated the versatility of being highly effective blockers while also being extremely talented at catching passes.
The list of best tight ends in football will undoubtedly become longer as players like Travis Kelce of the Chiefs, George Kittle of the San Francisco 49ers and Darren Waller of the Las Vegas Raiders have come on the scene.
What is the best tight end in the NFL?
Today, the standards to become the best NFL tight end are higher than ever. With TEs like Travis Kelce breaking records set by impressive players like Hall of Fame tight end Pete Retzlaff and racking up wildly impressive stats on the field, the requirements for claiming the top position are incredibly demanding.
In comparison to tight ends in decades past, the tight ends currently ranking at the top of the league are much more versatile. The best tight ends in the NFL are very large and strong, yet agile enough to get dozens of catches and hundreds of yards in a single season. Plus, many are scoring multiple touchdowns for their team every year.
Take Travis Kelce, for example. In the 2022-2023 NFL season alone, he had 110 catches for 1,338 yards and 12 touchdowns during the regular season and playoffs. He did all this at age 33 (which is on the older side for a tight end) and with a formidable size of 6 feet 5 inches and 250 pounds.
What is National Tight Ends Day?
National Tight Ends Day is on the fourth Sunday in the month of October. It was originally coined by San Francisco 49ers quarterback Jimmy Garoppolo but made popular by the team's tight end, George Kittle. It can be celebrated by players at all levels, including professional, college and high school football, but it's primarily promoted by the NFL.
Examples of how tight end is used in commentary
1. The Colts' tight end sets up the play nicely, chipping the blitzing linebacker just enough to slow the Steelers' defense down, then running out into the flats to haul in the pass for a first down.
2. Following an astounding performance in the playoffs, Kelce has racked up an impressive number of blocks in this Super Bowl game.
SportsLingo goes the extra-inch with the meaning of tight End
If a team has a good, well-rounded tight end, they can be a match-up problem for opposing defenses. Tight ends tend to be faster than linebackers, and stronger and taller than defensive backs, which makes it difficult for defensive coordinators to figure out how to cover them.
Sports The Term Is Used
1. Football
----------------------------------------------------------------------------------------------------