toe pick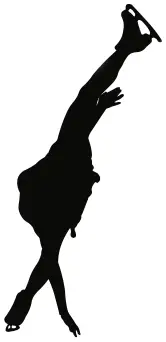 What Is The Definition Of Toe Pick In Figure Skating?
1. This term refers to the group of sawlike teeth located at the front of the blade, which it helps the skater in the ice to do certain jumps and spins, and adds strength to the skate. The contemporary figure skate is easily distinguished from the rest by this pick at the front of its blade.
Why Is There A Jagged Edge At The Front Of Ice Skates?
1. In order to get a firm grip and to dig into the ice prior to the jump, manufacturers created the jagged edges and grooves at the front of the blades on figure skates. These edges, or "teeth", allow the figure skater to dig into the surface of the ice in order to get a firm grip and to be able to push off the ice for a strong jump.
How To Use A Toe Pick
With the toe pick located on the front of the blade, if a skater opts to use it in figure skating, they would bring the nose of the skate down on the ice so that the toe pick digs into the ice. When firmly planted in the ice, the skater is to push down with the desired amount of pressure that they need to perform their trick.
Examples Of How Toe Pick Is Used In Commentary
1. Nagasu drives her toe pick into the ice and thrusts herself into the air for the difficult triple-lutz.
Sport The Term Is Used
----------------------------------------------------------------------------------------------------