un*der*hand serve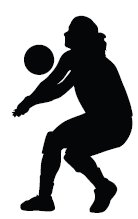 What Is The Definition Of An Underhand Serve In Volleyball?
1. This is a type of serve used in volleyball where the player serving the ball, holds the ball about waist high where they then slightly toss it up and hit the ball with their opposite closed fist using an underhand motion. The top of their closed fist hits the bottom of the volleyball.
Examples Of How Underhand Serve Is Used In Commentary
1. Because his jump serve has been inaccurate and has traveled out of bounds on his past few serves, Johnson elects to go with the more traditional underhand serve to make sure the ball gets over the net on match point.
SportsLingo Goes The Extra-Inch With The Meaning Of Underhand Serve
The underhand serve is one of the most common serves in volleyball. It is taught early-on to players due to it's low required skill level and simplicity. When doing an underhand serve in volleyball, the player must be standing behind the end-line prior to the actual serve. The player may stand anywhere behind the line, but must be behind it when they hit the ball into the play. If the player serves the ball over the line, or stands on the line, then that is considered a foot fault therefore awarding a point and possession to the other team.
Sport The Term Is Used
1. Volleyball
(Visited 6,261 times, 6 visits today)