up*per*cut
What Is The Definition Of Uppercut In Boxing & MMA?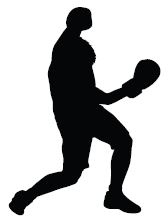 1. This is a power punch used in boxing that is aimed at the opponent's chin. The uppercut starts low around the opponent's midsection, with the punch coming up from below and usually making contact with the opponent's chin or other parts of their head.
Examples Of How Uppercut Is Used In Commentary
1. Jones gets in close to the challenger and unleashes a massive uppercut to his opponent's chin, causing his head to fly backward.
Sport The Term Is Used
1. Boxing