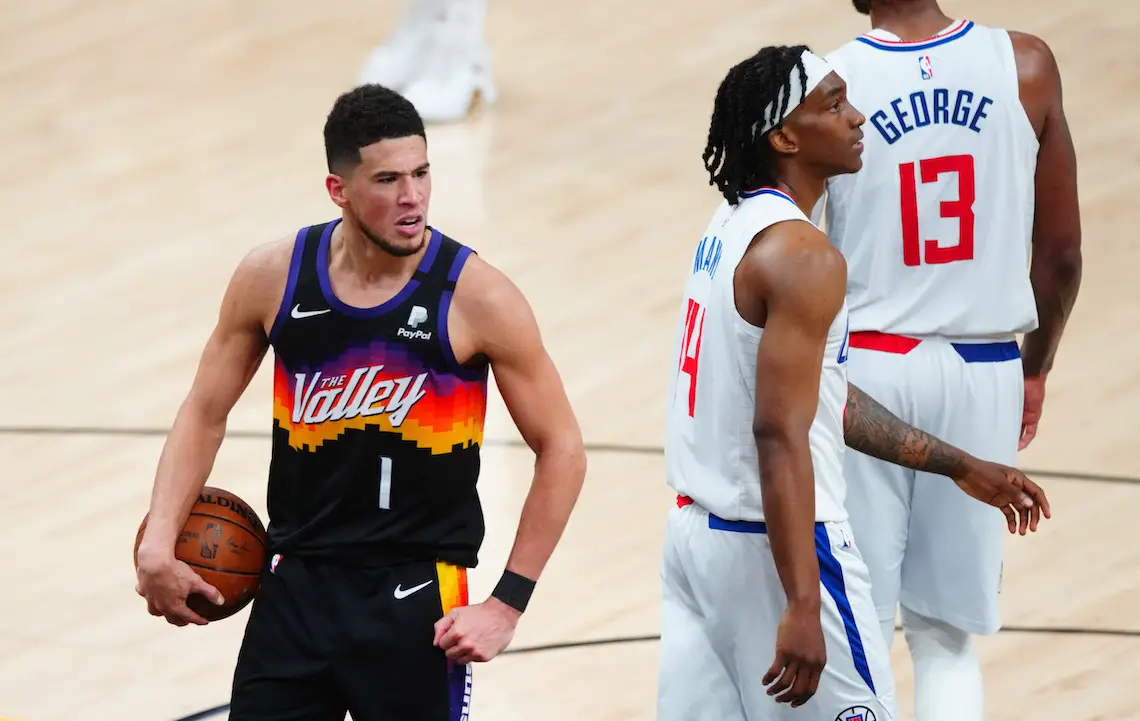 In a high-scoring matchup on Sunday, the Phoenix Suns took down the Los Angeles Clippers in a 120-114 victory.
Although it was only Game 1 of the NBA's Western Conference Finals, it set the tone for what is sure to be a heated playoff run between the two teams.
While the score remained close throughout the game, there was a clear standout on Sunday.
Suns player Devin Booker took the spotlight as he racked up stats through every quarter, eventually achieving his first-ever triple-double in his professional career.
An exciting NBA playoffs matchup
Part of the buzz surrounding the Clippers vs. Suns game was focused on the long stretch since Phoenix had last made a serious postseason appearance.
In fact, Sunday's win was the team's first in the Western Conference Finals since 2010.
Fans also speculated on how the game would progress with the absence of Suns starting point guard Chris Paul, who was out due to NBA health and safety protocols following a positive COVID-19 test recorded on June 16.
The Clippers also faced an uphill battle with a major absence on their side of the court.
Kawhi Leonard, an all-star player for the L.A. Clippers, sprained his right knee in the final quarter of Game 4 against the Utah Jazz, effectively sidelining him for the time being.
All those factors set the stage for a particularly exciting playoff game.
No one could predict what would happen with both teams missing a top player on the court.
Devin Booker's show-stopping performance
Amidst all the uncertainties about the Clippers vs. Suns game, there was one clear standout: Devin Booker.
BOOKER IS ON FIRE.

(via @NBATV)pic.twitter.com/g2BqLd5vQq

— Bleacher Report (@BleacherReport) June 20, 2021
He racked up an impressive 40 points along with 11 assists and 13 rebounds, earning his him very first pro triple-double.
The third quarter proved to be Booker's best of the game, with 18 of his 40 points secured during that period.
He went on to score or assist on 43 of the Suns' final 50 points.
Up to that point, Booker had been more focused on distribution, often steering the ball toward Deandre Ayton.
But as Clippers forward Paul George began to take the lead on scoring in Kawhi Leonard's absence, Booker stepped it up and started hitting basket after basket.
In the fourth quarter, Booker secured a critical rebound with just 4.6 seconds left on the clock to maintain the Suns' lead.
His strong performance throughout the game provided a confidence boost to the team going into the game without point guard Chris Paul.
The momentum he created undoubtedly propelled the Suns to their first win in the series against the Clippers.
The triple-double explained
Devin Booker's 40-point triple-double became one of the biggest stories to come out of the Clippers vs. Suns game on Sunday.
But what exactly is a triple-double, anyway?
This basketball feat requires a single player to achieve double-digits across three different statistical categories within a single game.
There are five possible categories that those double-digit totals can fall within:
In Booker's case, his double-digit numbers were racked up as points (40), rebounds (13), and assists (11).
Until fairly recently, triple-doubles were pretty rare in the NBA.
A few standout players, such as Oscar Robertson and Magic Johnson, achieved a significant portion of the league's triple-doubles during their careers.
But triple-doubles weren't a common occurrence.
In fact, from 1984 through 2014, there were only 1,242 triple-doubles achieved across a total of 72,798 NBA games.
So for 30 years, triple-doubles effectively occurred at a rate of just 1.7 percent.
But things have started to change as more star players have entered the game.
In the 2016-2017 season, point guard Russell Westbrook recorded averages of 31.6 points, 10.7 rebounds, and 10.4 assists for the year while playing for the Oklahoma City Thunder.
He went on to achieve that feat three more times, making him the only player to average a triple-double over four seasons.
Westbrook still holds the NBA record for the most triple-doubles at 184.
But he's joined by a number of other current pro players who have also managed to secure a high number of triple-doubles, including Lebron James, James Harden, Nikola Jokić, Luka Dončić, Rajon Rondo, Ben Simmons, and Draymond Green.
The historical significance of Sunday's NBA playoff game
Racking up his first triple-double was always going to be a big deal for Devin Booker.
But it's not the only noteworthy achievement of Sunday's game.
It was also the first time a Suns player had achieved a triple-double in a playoff game since Steve Nash did it in 2005.
And it also happened to bring up a striking coincidence:
Fun fact: Devin Booker is the first Suns player with a 40-point triple-double since Charles Barkley in 1993.

Funner fact: The Suns won both home games exactly 120-114. pic.twitter.com/dworc0rpgF

— StatMuse (@statmuse) June 20, 2021
According to ESPN, Booker is also one of only a handful of players to record multiple 40-point games in his first career postseason. The other five players to do so include Luka Dončić, LeBron James, Wilt Chamberlain, Rick Barry, and Bob McAdoo.
What lies ahead in the Western Conference Finals
With so much happening in an action-packed, history-making Game 1, what's to expect from the rest of the series?
First, it's important to note that despite Booker's big showing in the first matchup, the Suns and Clippers were pretty evenly matched for much of the game.
The Clippers had the lead at several points, but started to stumble a bit in the second half as the Suns' momentum ramped up.
Fans also shouldn't discount the effect of rest time before Sunday's game in its eventual outcome.
While the Suns had six days off before the game, the Clippers only had one.
The Suns and Clippers are now on more even footing going into Game 2.
Additionally, there are major player absences from the first game which could change as the series progresses.
It's unknown exactly when Chris Paul and Kawhi Leonard will return to the court, which could impact the outcome of future games.
It will be exciting to see what happens in Game 2, which is scheduled for Tuesday, June 22 at 9 ET.