ac*tive a*round the rim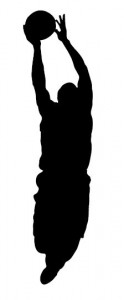 What Is The Definition Of Active Around The Rim?
1. This is a term used in basketball to describe a player who is jumping often and aggressively around the rim in order to gain a rebound.
Examples Of How Active Around The Rim Is Used In Commentary
1. Rodman has been active around the rim again tonight, hauling in 15 rebounds through three quarters.
SportsLingo Goes The Extra-Inch With The Meaning Of Active Around The Rim
A team who has one or two players who are always active around the rim can really change the dynamic of their team and take them to the next level. Although most teams have an good, tall average rebounders, not many have game-changing rebounders.
One player who is known more for their rebounding than any other facet of their game, was hall of fame player, Dennis Rodman. Rodman averaged 13.1 rebounds for his career and averaged over 15 rebounds in a season six times, including two seasons where he averaged over 18 rebounds a game. Rodman's ability to be active around the rim was crucial for five NBA championship teams which include playing a pivotal role during the Chicago Bulls' second three-peat. One thing to note is that Rodman averaged over 4.8 offensive rebounds a game. This meant that teams had at least five times during a game that they had a second-chance at a basket, or 10 points. This is a good example of how having a player who is active around the rim can truly make an impact on the outcome of a game.
Sport The Term Is Used
1. Basketball