clean*up hitter
What Is The Definition Of A Cleanup Hitter In Baseball?
1. This refers to the batter who bats fourth in the batting order. This hitter bats fourth because they tend to provide the most power and they usually hit the most home runs and extra base hits. With the top three hitters usually being the ones who have the highest on-base-percentages, this batter gives the team the best chance of driving them in for runs.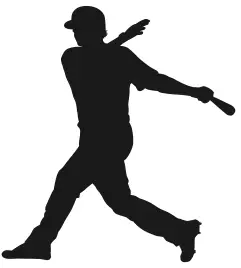 Which Batter Is Cleanup In The Lineup?
As stated previously, the number four hitter is the cleanup hitter in a lineup. With the top three batters being the most skilled for getting on-base, the cleanup hitter's main role is to drive them in. The number four hitter tends to have the most power, so they're most likely to hit a home run, get an extra base hit or hit a ball deep into the outfield that has a good chance for a potential sacrifice fly.
Examples Of How Cleanup Hitter Is Used In Commentary
1. With the bases loaded, the cleanup hitter comes up to bat, hoping to hit a grand slam.
2. Batting fourth tonight, the cleanup hitter, Alex Rodriguez.
SportsLingo Goes The Extra-Inch With The Meaning Of Cleanup Hitter
Cleanup hitters are mainly known for their power at the plate. While the top three spots in the lineup are known for their ability to get on base, whether by hits or walks, the cleanup hitter is more known for their slugging percentage and the number of home runs they may hit over the course of the season. Although they tend to have the most RBIs on the team due to the number of opportunities they receive to drive in runs, they are also known to have one of the highest strikeout totals in the lineup. Since cleanup hitters tend to have such high strikeout totals, in exchange this means that they will also have a low on-base percentage.
Sports The Term Is Used
1. Baseball
2. Softball
Also Known As:
1. Cleanup