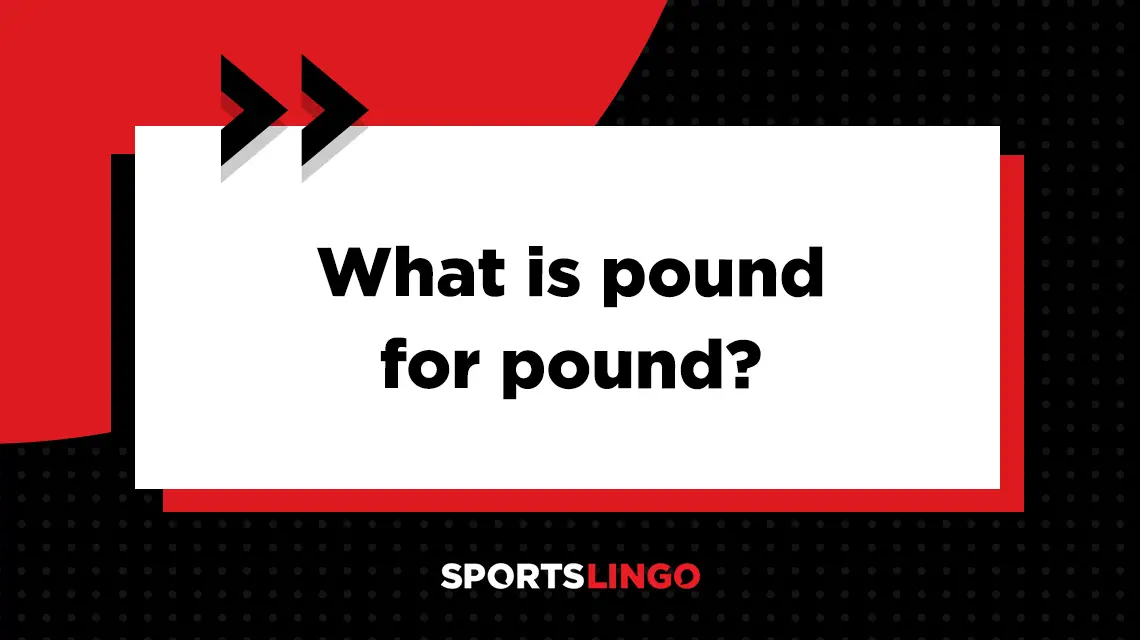 pound for pound
What is the definition of pound for pound in boxing & MMA?
1. The term pound for pound refers to how good a boxer or MMA fighter is based on their overall skill, not their weight class.
What does pound for pound mean in boxing?
If a boxer or MMA fighter is noted as a great pound for pound fighter, it indicates that they are a top contender in their entire sport, not just within their weight class. Some of the best fighters have earned this accolade in their careers due to their reliably impressive performances.
Why is it called pound for pound in boxing?
The pound for pound meaning refers to the different weight classes in boxing. A boxer's weight determines his weight class, and as a result, they will be matched up against other members of their weight class.
The fighters who are considered great pound for pound boxers are the ones who dominate their weight class. Because of their success, fans, commentators, and fellow boxers imagine that they might be a better fighter even in matchups involving competitors in other weight classes.
What are the most common weights in boxing?
There are several different weight classes in boxing and MMA, including:
Heavyweight
Light heavyweight
Middleweight
Welterweight
Lightweight
Featherweight
Bantamweight
Flyweight
Women's boxing and MMA typically includes some lighter weight classes to accommodate for smaller fighters. For example, women's UFC fighters can be categorized as strawweight, which is lighter than flyweight.
Typically, pound for pound lists of top fighters will include those from the middleweight and lighter weight classes (welterweight, lightweight, etc.). It is assumed that fighters in the heavyweight division would naturally have an advantage in size, strength, and power over those in lighter weight classes. For this reason, it's uncommon for a heavyweight champion to be categorized as one of the best pound for pound fighters.
How is a pound for pound ranking determined?
When it comes to pound for pound rankings, a boxer will be judged based on their record, quality and level of competition, and how many wins have come by knockout.

What makes a good pound for pound boxer?
Good pound for pound boxers have a combination of speed and precision when they fight. They punch accurately and powerfully, which is hard for the opponent to defend. Pound for pound fighters are also exceptional on the defensive front as they're able to deflect punches, they keep their guard up at all times, and they are quick on their toes.
Pound for pound boxers have developed their speed through impeccable conditioning. Not only are they agile and quick while sparring, but their conditioning helps them last the duration of a match without too much fatigue. It's hard to beat a highly conditioned boxer.
Mental fortitude, adaptability, and pure toughness are important qualities in a strong pound for pound boxer. These traits help fighters when matches get tough or when adjustments need to be made based on a competitor's weight.
Who are the all-time best pound for pound boxers?
In boxing, some of the best pound for pound boxers in the sport's history include:
Sugar Ray Robinson
Muhammad Ali
Mike Tyson
Manny Pacquiao
Floyd Mayweather
There are also a number of MMA fighters who are considered to be among the best pound for pound athletes in their sport, including:
Jon Jones
Anderson Silva
Jose Aldo
Ronda Rousey
What does the phrase pound for pound mean?
Outside of combat sports like boxing and MMA, pound for pound means that something is being directly compared to another object of an equal weight. This comparison can be positive or negative in nature. An example would be: "Pound for pound, you'll get a better deal if you buy those supplies in bulk."
Examples of how pound for pound is used in commentary
1. With his record extending to 48-0, Olympic champ and Boxing Hall of Fame member Floyd Mayweather has established himself as one of the top pound for pound boxers in the world.
2. According to ESPN and The Ring Magazine, Sugar Ray Robinson ranks as the best boxer pound for pound in history.
Sport the term is used
1. Boxing
2. Mixed Martial Arts
Also seen as
1. P4P
----------------------------------------------------------------------------------------------------