sli*der
What Is The Definition Of Slider In Curling?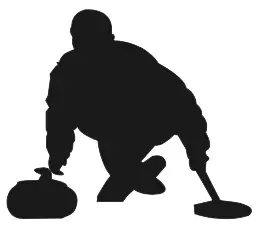 1. A slider is a special sole that fits over one's curling shoe to allow him/her to slide easily.
The slider is usually made out of Teflon, a synthetic material which slides well. A good slider will aid in the thrower's delivery. 
What Is The Purpose Of A Slider? 
The slider helps the sole of the shoe slide easily while on the ice. It helps curlers slide as they throw the stone towards the goal and as they sweep the curling sheet.
A slider's thickness level depends on the curler's experience level and stability needs. A thin slider sole creates more friction and stability because the curler is closer to the ice, so it is recommended for beginners. Experienced curlers often wear thicker sliders.   
Which Foot Does The Slider Go On?
It depends which foot a curler wears the slider on. If he/she is right-handed, the slider sole goes on the right shoe. If he/she is left-handed, the slider sole goes on the left shoe. 
How Often Should A Slider Be Replaced?
Teflon sliders generally last a long time if they are cared for and stored in cool places. Depending on how much a slider is used, it may wear out sooner.
It is recommended that you replace your slider soles when you lose the ability to slide easily. If your slider starts to chip or crack at the edges, it needs to be replaced. 
Example Of How Slider Is Used In Commentary
1. To be able to deliver the stone with an efficient slide, famous Canadian curler Jennifer Jones slipped her Teflon slider over her curling shoe. 
Sport The Term Is Used
1. Curling

Also See:
1. Gripper
----------------------------------------------------------------------------------------------------