tri*ple jump
What Is The Definition Of Triple Jump In Track & Field?
1. The triple jump is similar to the long jump in that the athletes sprint down a runway towards a wooden board and jump off of it for the greatest distance. However, the triple jump adds a "hop" and a "step" to the jumping action.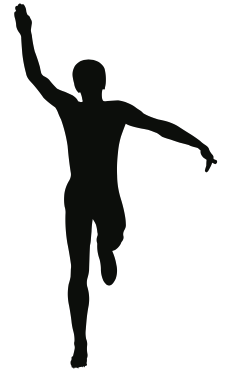 Triple jumpers sprint an approach run towards a wooden takeoff board, followed by another stretch of runway, followed by a sandpit. The athlete plants one foot on the board and "hops" as far as possible to land on the same foot. 
The jumper then pushes off that foot and "steps" as far as possible to land on the opposite foot, off which the athlete propels themselves into the "jump" and the sandpit.
The officials measure the total distance from the starting wooden board to the nearest impression in the sand. 
How Does The Triple Jump Event Work?
Similar to other track and field events, the triple jump often has a qualifying round and a final. 
Jumpers are allowed six jumps. Similar to the long jump and high jump, elimination happens throughout the competition, where only the jumpers with the furthest marks continue.
Example Of How Triple Jump Is Used In Commentary
1. Spain's Pedro Pichardo takes home the gold medal for the Tokyo Olympics triple jump final with a distance of 17.98 meters.
Sport The Term Is Used
----------------------------------------------------------------------------------------------------