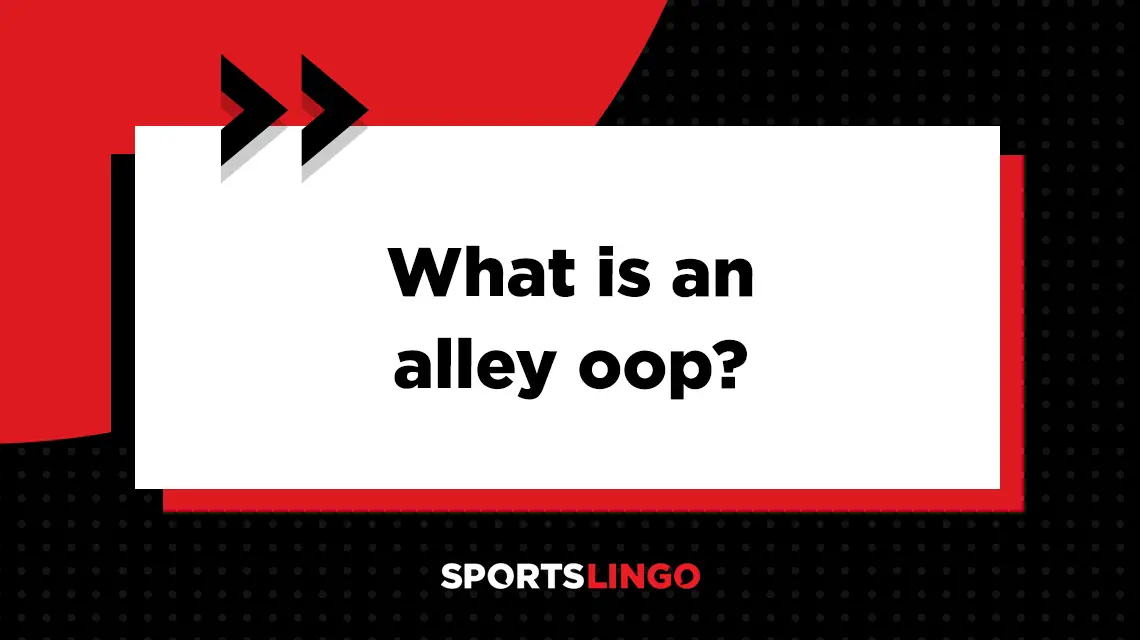 al*ley oop
What is the definition of alley oop?
1. An alley oop is an offensive play in basketball where one player throws the ball up in the air near the basket and another offensive player grabs the ball in mid-air and scores, usually with a dunk.
The term "alley oop" can also be used to refer to the pass that is made as part of the offensive play.
What does it mean to throw an alley oop?
A player who throws an alley oop has tossed the ball up toward the basket so that their teammate can complete the play and score.
This is a carefully coordinated play that requires both teammates to work together to score a field goal. Although alley oops often happen organically on the court, they can also be part of a planned play.
Why do basketball players do alley oops?
Basketball players can use an alley oop to evade defenders who are making it difficult to complete a bounce pass or chest pass. An alley oop puts an arcing pass high into the air where it is out of reach of the defenders, especially if they aren't anticipating the move.
Alley oop plays demonstrate a team's creativity and skill on the court. These plays can also produce quick scoring options by finding a clever way to get the ball to a teammate so they can stuff the ball into the hoop. This is useful strategy to create scoring opportunities for a player who excels in slam dunks.
Are alley oops illegal?
Alley oops are legal in basketball. However, the players involved in executing an alley oop must be careful to avoid offensive basket interference violations.
An offensive basket interference violation occurs when a player touches the ball while it is directly above the basket. This area is known as the cylinder since it can be visualized by imagining a cylindrical tube which extends straight up from the rim. It's important to note that there is an exception to this rule when a player makes a dunk.
Can an alley oop be a layup?
An alley oop can be a layup when a player catches the ball in mid-air below the rim and then finishes by shooting it into the basket. Alternatively, if the player puts the ball into the basket from above, it's a dunk alley oop.
Can an alley oop be thrown from an inbounds pass?
An alley oop may be thrown directly from an inbounds pass. The player making the pass can lob the ball all the way from the sideline toward their teammate. Once it nears the basket, the teammate grabs the ball in mid-air and scores with a layup or dunk.
Can you throw an alley oop to yourself?
A player can complete a self alley oop by throwing the ball toward the backboard, jumping up to catch it as it bounces off the glass, then finishing with a layup or dunk.
Does an alley oop off the backboard count as an assist?
According to the National Basketball Association (NBA), passes off the backboard do not count as assists. However, there have been some instances in which a player has been awarded an assist for this type of play.
Assists are somewhat subjective in basketball, which leads to inconsistencies in tracking statistics. For example, one statistician may mark a backboard alley oop pass as a missed shot, while another might count it as an assist.
How did the alley oop get its name?
The term "alley oop" is a variation on "allez hop," which is a French phrase that loosely translates to "let's go" or "off you go."
What's another word for alley oop?
In basketball, there isn't another term that can be used to describe an alley oop. However, the execution of this specific type of play involves other basketball terminology, such as an overhead pass or inbounds pass followed by a layup or dunk.
Who did the first alley oop in basketball?
It's unclear which basketball players did the first alley oop ever. It was likely a move that players developed during practice when looking for unique ways to score.
The first documented instances of alley oops occurred in college basketball during the 1950s . For example, Bill Russell and K. C. Jones completed a number of alley oops while playing at the University of San Francisco from 1953 to 1956.
Other early adopters of the move included Al Tucker at Oklahoma Baptist University in the mid-1960s and David Thompson at North Carolina State University in the early 1970s. Greg Kelser and Basketball Hall of Fame member Magic Johnson also performed a number of alley oops while playing for Michigan State University in the 1970s. Some college players had to be creative with their alley oops during this time since dunks were banned in high school and college basketball from 1967 to 1976.
What is the origin of the word "alley oop"?
"Alley oop" derives from an alteration of the French phrase "allez hop." The word "allez" is a conjugation of the French word "aller," which means "to go." This phrase was commonly uttered by circus acrobats as they were about to jump at the beginning of their performance.
The term "alley oop" actually had its first sports-related usage in the National Football League (NFL). In the 1950s, San Francisco 49ers quarterback Y. A. Tittle would throw high passes to wide receiver R. C. Owens. The team called these passes alley oops since Owens could jump up above cornerbacks to snag the ball out of the air for a touchdown reception.
What does alley oop slang mean?
The term "alley oop" can also be used colloquially as an exclamation or interjection when lifting something up or engaging in a strenuous activity, especially when done with the assistance of one or more other people.
For example, when two people are about to move a couch, one might use the phrase "alley oop" to indicate the moment when both ends of the couch should be lifted in unison. The alley oop meaning in slang is loosely related to the meaning of alley oop in basketball in that it generally refers to a collaborative move that involves something rising up from a position on the ground.
What are some other examples of alley-oop?
Other uses of alley oop include the name of a comic strip and a podcast.
Alley Oop comic strip
Alley Oop is the name of a syndicated comic strip created by V. T. Hamlin. The stories in the comic focus on the title character named Alley Oop, a prehistoric caveman who lives in a kingdom called Moo and time travels to different periods in history.
What year was Alley Oop released?
The comic Alley Oop debuted on December 5, 1932. Since Hamlin's retirement, other cartoonists have continued to produce Alley Oop, and it is still in syndication as of 2023.
Who was Alley Oop's girlfriend?
In the comic strip, Alley Oop's girlfriend is Ooola. Her name is a play on the French phrase "ooh la la."
Alley Oop podcast
Alley Oop is the name of a podcast hosted by Paul C. Morrissey, a comedian with a background in sports. In addition to being a former TV sports anchor, Morrissey was also a college basketball player and coach. The podcast covers a number of sports topics and features interviews with professional athletes, fellow comedians, and more.
Examples of how alley oop is used in commentary
1. The Lakers' point guard tosses up an alley oop to the center who slams it home for an easy two points.
2. The Jalen Brunson and Julius Randle of the New York Knicks collaborate to execute another flawless alley oop, adding to their lead over the Detroit Pistons.
SportsLingo goes the extra-inch with alley oop
The alley oop, when executed well, can be a useful and valuable tool for an offense in basketball, especially if the team has an athletic front court and skilled point guard. Although an alley oop can be performed by any member of the team, this combination is particularly unique.
Chris Paul is well-known for having run effective alley oop plays on all the teams he's played on. For example, during his time with the Los Angeles Clippers, Paul on numerous occasions helped the team score easy baskets with his well-timed and placed alley oops. Because teams had to respect Paul's ability to score in the lane, he often drew double-teams, therefore leaving the Clippers with an open man. Blake Griffin and DeAndre Jordan were the main benefactors of this, and would regularly perform highlight dunks due to this play.
Sport the term is used
1. Basketball
----------------------------------------------------------------------------------------------------