half*back
What Is The Definition Of A Halfback In Football?
1. More familiarly known in modern use as a running back, a halfback plays offense in football and is the primary ball carrier. On running plays, they are the player that most often takes the ball from the quarterback. In the traditional football formation known as the I formation, the halfback lines up behind the fullback.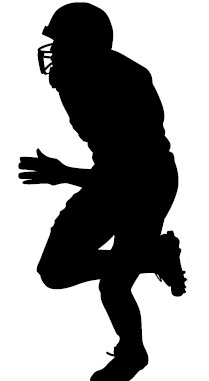 Halfbacks can also be responsible for blocking on pass plays, including identifying and blocking a blitzing defensive player.
Why Is It Called A Halfback?
The root of the term halfback originally comes from rugby. The "half back" lined up halfway between the scrum (or scrummage, which would become the line of scrimmage in football) and the player farthest behind the scrum. This original positioning was transitioned to football. As football changed over time, the fullback moved in front of the halfback, yet the names for the positions stayed the same.
In modern football, there is essentially no difference between a halfback and a running back. They are simply different names for the same position. A running back can also be called a tailback.
Example Of Halfback Used In Commentary
1. Jerome Bettis did a great job on this play, hitting the hole with a full head of speed and running over defenders. That's why "The Bus" is considered one of the best halfbacks in the league.
Sports The Term Is Used
1. Football
2. Rugby
3. Soccer
Also Known As:
1. Running back
2. Tailback