li*ber*0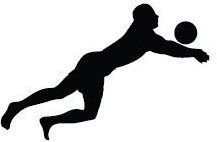 What Is The Definition Of A Libero In Volleyball?
1. The libero is a defensive specialist who cannot block or attack the ball when it is above the height of the net. The libero must wear a contrasting jersey from their teammates in order to be able to separate them from the group. When it comes to substituting, the libero can replace any back-row player when the ball is not in play without notifying the official. In addition, when a libero substitutes for a player, it does not count against the substitution limit each team is allowed per set.
Examples Of How Libero Is Used In Commentary
1. The libero makes an outstanding, diving dig on that strong spike from Jones.
Sport The Term Is Used
1. Volleyball
(Visited 1,899 times, 1 visits today)