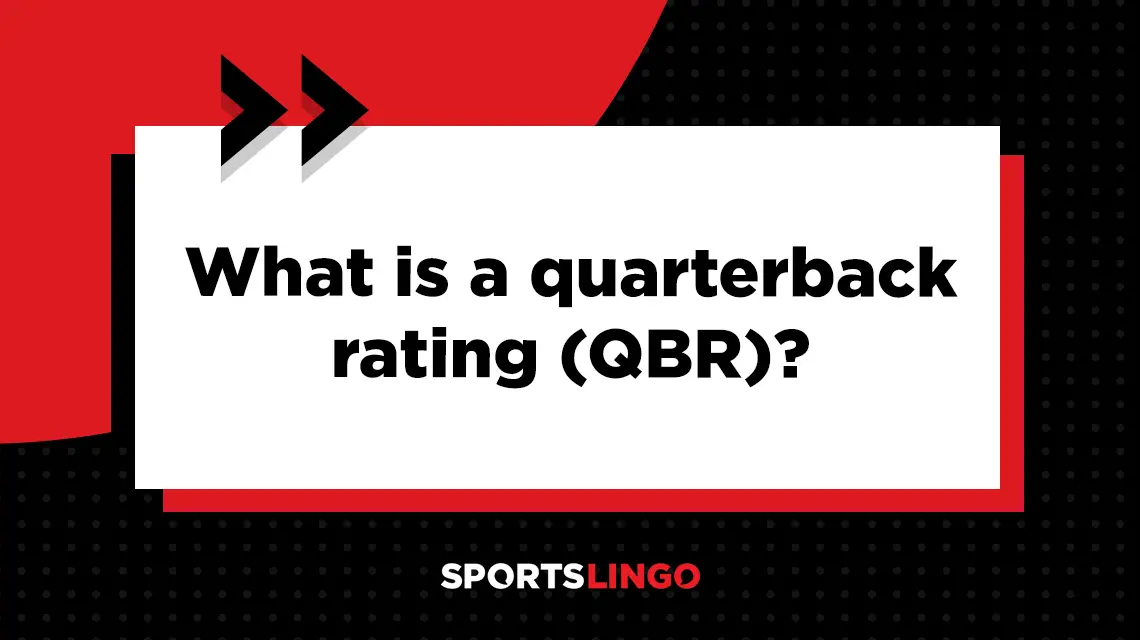 quar*ter*back ra*ting
What is the definition of quarterback rating in football?
1. Quarterback rating (QBR) is a statistic that represents a quarterback's overall performance. The formula for this rating involves the number of passing yards, touchdowns, pass completions, interceptions and other actions recorded by the player.
The highest possible quarterback rating is 100, while the lowest is zero.
What does QBR stand for?
QBR stands for quarterback rating. Although it's often simply called QBR, this football stat is sometimes referred to as total QBR.
QBR is a stat that was created by ESPN in 2011 with the intent of creating a more insightful and meaningful measure of a quarterback's performance in comparison to passer rating. The formula has been slightly modified since it was first introduced, but overall it has remained largely unchanged.
What does the QBR measure?
The QBR uses multiple metrics to measure how well a quarterback performed. The QBR can be calculated for a single game or over the course of an entire season or career.
Some of the data points which are factored into a player's total QBR include:
Passes
Passing yards
Touchdown passes
Turnovers
Penalties
How does QBR measure a quarterback's performance?
Many sports statistics have a simple formula in which a few data points are entered to get a resulting number. However, total QBR requires a complex and somewhat subjective process for determining a player's rating.
For example, individuals plays are weighed according to their difficulty as well as the context of the game, like whether the QB was under pressure at the time. In addition, the strength of the opposing team's defense is factored into the final calculation.
Each of the quarterback's plays are evaluated in terms of the expected points added (EPA). Plays occurring during garbage time (near the end of a competition where a win is inevitable) are significantly discounted compared to those at other points in the game, especially critical plays with a bigger impact on the outcome of the game.
ESPN's sports analysts note these factors in real time and in follow-up reviews. Using their detailed calculation process, they come up with a final QBR. This figure represents the win probability for the quarterback on a scale from zero to 100.
Is QBR or passer rating better?
Total quarterback rating is generally considered superior to passer rating in determining a quarterback's overall performance.
Passer rating can be used to measure the performance of any player who makes a forward pass in American football, although it is primarily applied to quarterbacks. This statistic is limited to passing-related statistics only, including:
Passing attempts
Pass completions
Passing yards
Touchdown passes
Interceptions
Passer ratings are commonly used to evaluate players in the NFL and NCAA, but the statistic isn't as detailed as total QBR, which takes more data points into account. For this reason, some football analysts assert that QBR is the superior stat.
It's also more difficult to gauge a player's standing in relation to other players due to the odd nature of the passer rating scale. The highest possible passer rating in the NFL is 158.3, while the lowest is zero. In college football, the highest passer rating is 1261.6 and the lowest rating is -731.6. Total QBR, on the other hand, has a simplified scale that goes from zero to 100.
One of the advantages of passer rating over QBR is that the formula to calculate passer rating is more accessible. ESPN uses a complicated, proprietary formula for QBR, which means that it's not completely clear how it's calculated.
What is considered a good QBR?
The scale for QBR extends from zero to 100. On that scale, 100 represents a perfect performance, while an average performance would be a QBR of around 50.
Generally, a QBR of 60 or higher is considered to be excellent, with the very best performers earning a total QBR in the 70s or 80s.
A poor performance would have a QBR of 40 or below. If a quarterback's QBR is lower than 30, it represents a poor performance in a game or season.
What is the highest QBR ever?
Tom Brady has the highest single-season QBR ever. He set the record with his 2007 season performance for the New England Patriots with a QBR of 88.2.
QBR record holders in the NFL
As of March 2023, the following NFL players had achieved the all-time best single-season QBRs in the NFL:
88.2: Tom Brady, 2007 New England Patriots
87.5: Peyton Manning, 2006 Indianapolis Colts
85.5: Aaron Rodgers, 2011 Green Bay Packers
84.4: Aaron Rodgers, 2020 Green Bay Packers
84.3: Drew Brees, 2011 New Orleans Saints
84.2: Drew Brees, 2009 New Orleans Saints
83.3: Matt Ryan, 2016 Atlanta Falcons
83.0: Tom Brady, 2016 New England Patriots
82.8: Peyton Manning, 2009 Indianapolis Colts
82.5: David Garrard, 2007 Jacksonville Jaguars
It's relatively common to see the same quarterbacks take the top spots for QBR in multiple seasons. For example, Patrick Mahomes held the highest QBR in the 2018 NFL season and the 2022 NFL season. Peyton Manning claimed the top QBR for the NFL season in 2006, 2008, 2012 and 2013. Aaron Rodgers and Tom Brady have also achieved the highest QBR in the league in multiple seasons.
Is QBR an accurate measure of performance?
The fact that many star quarterbacks, some of whom have gone on to win Super Bowls, consistently rank highly for QBR supports the claim that as a good measure of overall QB performance.
However, some have criticized the QBR stat for showing some inconsistencies on a game-by-game basis. For example, in 2011 (the same year that the QBR statistic was introduced by ESPN), Tim Tebow earned a higher QBR than Aaron Rodgers for their games on October 9 despite major differences in their overall achievements in each matchup.
In Tebow's game, he came in for a relief appearance to complete four out of 10 passes for a total of 79 yards. Meanwhile, Rodgers completed 26 out of 39 passes and threw for a total of 396 yards — more than five times that of Tebow. But when ESPN released their QBRs for these games, Tebow scored an 83.2 while Rodgers only earned 82.1. The scores didn't seem to accurately reflect the QBs' impact on each game, especially since Rodgers played a full game while Tebow only played in the second half.
Although the Tebow vs. Rodgers scoring issue came very early in the application of QBR, the stat has continued to occasionally produce some odd results that don't seem to reflect actual QB performance very well.
On September 24, 2017 in a matchup between the Kansas City Chiefs and the Los Angeles Chargers, Chiefs QB Alex Smith had a higher pass completion rate and higher number of yards per completion than Chargers QB Philip Rivers. Smith also had two touchdown passes and no interceptions, while Rivers had zero touchdown passes and three interceptions. However, Smith had a surprisingly low QBR of 7.8, while Rivers QBR of 16.1 was more than twice that of Smith's. When these types of inconsistencies arise, some analysts and fans question how accurate QBR really is.
What is the formula for calculating QBR?
The formula for calculating total QBR is a closely guarded secret at ESPN. Their proprietary formula has not been shared with other sports outlets or data analysts. Because ESPN has not been transparent about the QBR formula, some sports professionals and football fans claim that the stat isn't as reliable as other measures of player performance.
What are the components of a QBR?
A player total QBR is assessed by looking closely not only at their actions on the field, but also the actual or expected outcomes from those actions.
How do you calculate QBR?
In each play, actions like quarterback passes, interceptions, touchdown passes, fumbles, sacks, turnovers, rushing yards, turnovers and penalties are all taken into consideration.
From there, the next step for ESPN analysts who calculate QBR is to determine how those actions predict a player's overall performance on the field. One of the most significant ways in which these actions are weighted is by adjusting for the difficulty of each play. This provides a figure for the expected points added (EPA), which is adjusted based on factors like the type and depth of a pass and whether the QB was under pressure from the opposing team when the play was made.
Once this has been done for every play the quarterback is involved in, analysts have an adjusted EPA. This figure is divided by the number of action plays on the field to produce the raw QBR. The raw QBR is translated into a number on a scale from zero to 100, with 50 being an average performance and 100 being a perfect performance.
What type of statistic is QBR?
QBR is a type of football statistic used to measure the performance of a quarterback. This statistic is calculated exclusively by ESPN, which first debuted it in 2011.
Other uses of QBR
It's also common to see the term QBR used in reference quarterly business review. This acronym is relatively common among customer success teams and customer success managers when referring to executive business reviews (EBRs), but it is unrelated to QBR as a football stat.
Instead, QBR in these contexts often takes into account a business's success in term of customer service management (CSM) and account management, customer churn, key performance indicators (KPIs), customer onboarding and retention, stakeholder satisfaction, SAAS performance, LinkedIn initiatives and other factors.
Although quite a bit of data is shared in the typical QBR meeting, these statistics are entirely separate from the metrics used to determine a player's QBR in football.
Examples of how quarterback rating is used in commentary
1. Kirk Cousins has a QBR of just under 50 this season, which is a significant drop compared to the beginning of his career. He'll need to step up his game to hold on to his position as starting quarterback.
2. With a QBR of 81.8, Lamar Jackson of the Baltimore Ravens holds the highest total quarterback rating for the 2019 season.
3. With an impressive 40-yard pass, Tom Brady leads the Tampa Bay Buccaneers to victory and surely boosts his QBR for the game.
Sport the term is used
1. Football
Also known as:
1. Total QBR
Abbreviated as:
1. QBR