de*cath*lon
What Is The Definition Of Decathlon In Track & Field?
1. The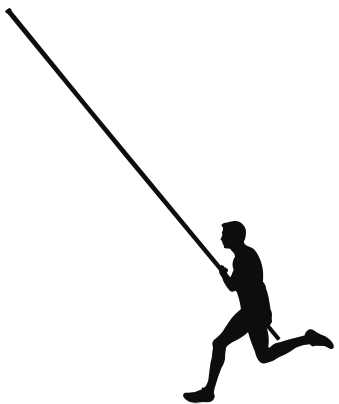 decathlon is a track and field competition in which athletes compete in four runs, three jumps, and three throws over two days. Competitors receive points for their performance in each of the 10 events, favoring those who can score evenly across events. 
The competitor with the highest point total upon the completion of all 10 events wins. 
How Many Track Events Are In A Decathlon?
There are 10 total events in a decathlon, with five held on each day of the event.
The schedule for the decathlon is as follows:

Day 1: 100M, Long Jump, Shot Put, High Jump, 400M
At major championships such as the Olympics, only male athletes are permitted to compete in the decathlon. Female athletes must compete in the heptathlon.
How Is The Decathlon Scored?
The decathlon is scored using a complex point system. Instead of scoring participants by placement within the event, the event performances are scored utilizing a pre-determined table of values.
In jumps and throws, the greater the mark recorded, the higher the score. In runs, the faster the time, the higher the score.
The first table originated in 1912 and has since been updated several times. The original philosophy of the scoring table was that a world record in each event would garner 1,000 points for the participant. 
However, as world records have moved further and further into the extremes, so have point totals for the decathlon. As the scoring formula remains the same across many years and competitions, athletes may score greater than 1,000 points on any event, but it is not common. 
Example Of How Decathlon Is Used In Commentary
1. We are almost halfway through Day 2 of the decathlon competition. Next up is the pole vault, starting with Chris Nilsen of Team USA.