hep*tath*lon
What Is The Definition Of Heptathlon In Track & Field?
The heptathlon is similar to the decathlon in that it is comprised of several events wrapped into one competition. Unlike the decathlon, the heptathlon only contains seven events.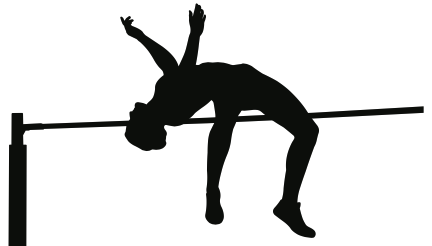 Athletes competing in the heptathlon complete three runs, two jumps, and two throws over two days. The heptathlon is viewed as the female counterpart to the male-only decathlon in major competitions.
Similar to the decathlon, competitors receive points based on their performance in each event. The athlete who scores the most points wins. 
What Are The Events In The Heptathlon In Track & Field?
The heptathlon has seven events that take place over two days. The order for the heptathlon is as follows:
Day 1: 100M Hurdles, High Jump, Shot Put, 200M
Day 2: Long Jump, Javelin, 800M
What Is The Difference Between The Heptathlon And The Decathlon?
Originally, the female counterpart to the decathlon consisted of five events, referred to as the athletics pentathlon. From 1964 to 1980, women competed in a pentathlon comprised of the shot put, high jump, 100M hurdles, 200M, and long jump. 
In 1984, the Olympics Committee added the javelin and 800M to the pentathlon, effectively creating the heptathlon of today. 
The three events in the decathlon that are not included in the heptathlon are the pole vault, 100M, and discus. Some of the running events differ slightly from the decathlon, such as the 800M instead of the 1500M and the 100M hurdles in lieu of the 110M hurdles. 
How Does Heptathlon Scoring Work?
Heptathlon scoring works the same as decathlon scoring. 
Tables pre-allocate scores based on time and distance, depending on the event. In running events, the faster the time, the more points scored. In throwing and jumping events, the larger the mark, the higher the points awarded. 
Example Of How Heptathlon Is Used In Commentary
Jackie Joyner-Kersee became the first person to break 7,000 points in the heptathlon and remains the world record holder today with 7,291 points.