jab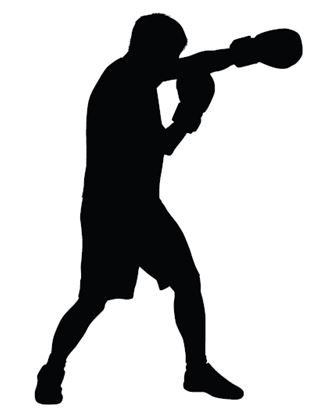 What Is The Definition Of A Jab In Boxing & MMA?
This is a type of quick punch that is used in boxing. A jab is when the fighter throws a quick punch that starts from their chin and hits the target that is in a direct line in front of them. This is the most common and frequently used punch in a boxing match.
Examples Of How Jab Is Used In Commentary
1. Mayweather keeps his opponent off balance by throwing a constant supply of jabs to his head.
SportsLingo Goes The Extra-Inch With The Meaning Of Jab
The jab is an important punch for a fighter to master. The jab is used in a variety of different ways and scenarios. The following are the different ways the jab is utilized:
Defense Jab – The jab is used to help keep their opponent at a respectable distance. Because of it's speed and power, the jab can help prevent their opponent from charging into the fighter. The jab can also be effectively thrown while the fighter is stepping backwards.
Speed Jab – Due the jab's quick thrust and mobility, a fighter will throw many jabs in order to score points in the bout.
Rangefinding Jab – A fighter will at many times throw the jab to help correctly gauge how far their opponent is from them before they throw more jabs or harder punches.
Power Jab – Although the jab is used more primarily as a speed punch, a fighter may also use a power jab to attack their opponent. The power jab is different than the speed jab, as they will put their weight on their front, lead foot when delivering the punch. The fighter can also generate power from their hips and from pushing off their back foot.
Jab To The Body – This simply states that the fighter bends their waste in order to deliver a jab to the mid-section of their opponent. However, this jab makes the fighter more exposed to the counterpunch.
Jab Combinations – This simply states the different combos a fighter will use with the jab. Such combinations would be when a fighter throws a series of jabs without planning in order to score points, finishing their combination with a jab to avoid a counterpunch and using the jab as a set-up where the fighter throws the punch in order to move in closer to their opponent.
Sport The Term Is Used
----------------------------------------------------------------------------------------------------