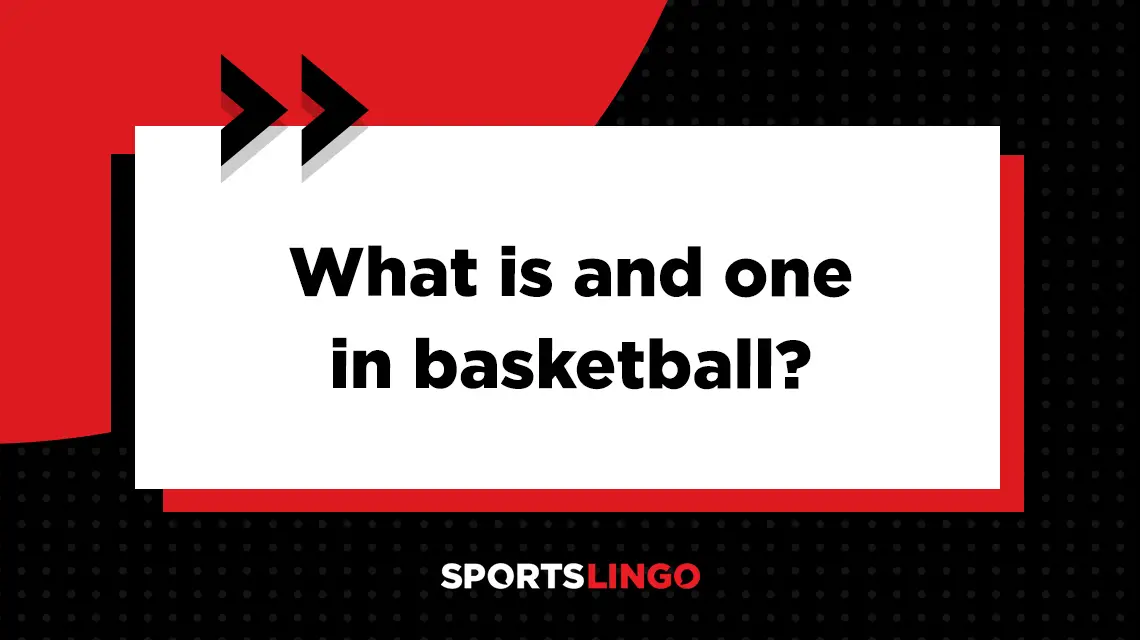 and one
What is the definition of and one in basketball?
1. And one is a phrase used to describe when an offensive player is fouled while making a shooting attempt, but the player still makes the shot and is then granted one free throw. When a player says "and one," it refers to them getting one free throw attempt in addition to the points from the shot in which they were fouled.
What does and 1 mean in basketball?
In basketball, and one refers to a play in which an offensive player is fouled by a member of the opposing team while scoring a field goal. The and one refers to the free throw shot awarded to the player as a result of the foul.
Players sometimes call out "and one" when they expect the ball to still go into the basket after being fouled during their shot. This expression is often a combination of showing confidence in their skill while also communicating to the referee that they feel that an and one shot is warranted due to the actions of the defense.
What is an and one in a basketball game?
An and one in a basketball game is the foul shot that an offensive player gets to take from the free throw line after being fouled by a defensive player while in the act of shooting the ball. This gives the player the chance to score one additional point, which is what's referenced by the term "and one."
If a player gets fouled while taking a shot, but the ball doesn't go into the basket, it is not an and one play. When the shot doesn't go in but a foul does occur, the player typically gets two or three free throws instead of one depending on whether they were making a two-point or three-point attempt, respectively.
What is the difference between and 1 and two shots?
In basketball, an and one only occurs after a shooting foul committed by a defensive player. As a result of this foul, the player gets a chance to take one free throw shot which, if the player makes the shot successfully, is worth one point.
An and one situation differs from two regular shots taken in the course of a basketball game. For example, a player might make a layup and then a jump shot on two successive plays, but these are considered normal shots as opposed to one regular shot followed by a foul shot from the free throw line.
Why is it called and 1?
The term "and one" refers to the opportunity to score one additional point after an offensive player is fouled while making a basket. The free throw shot awarded to that player is worth one point if they make the shot successfully.
How do you get an and one in basketball?
A player gets an and one whenever they are able to successfully make a shot despite being fouled during their attempt. The shot can be any type of shot, including a dunk, layup or jump shot. A player could be fouled when they grab a rebound from a teammate's shot and then put it back up to get a field goal. Three-point field goals can also draw an and one if the player is fouled during their shot and then successfully makes a basket.
Some players strategically try to draw a foul when making a shot in an effort to get an opportunity for an extra point from the free throw line. A player might use one of the following tactics to increase the chances of an and one by getting fouled while shooting:
A pump fake could cause a defender to rush at the player, so that when they actually take the shot, the defender is likely to make contact with the shooter in a way that draws a foul.
If a player kicks out their legs as they make a shot, it could draw contact from a defender and result in a foul being called.
Hooking arms with a defender as the player dribbles toward the basket for a layup could cause the referee to call a foul when the player tries to make a shot.
If a player goes around a screen and then immediately goes up for a shot, the defender may run into them from behind and foul them.
It's important to note that while drawing a foul can be an effective strategy in basketball, referees may call an offensive foul if the player taking a shot makes exaggerated or excessive movements in order to have a fouled called. Beginning in the 2021-22 season, the National Basketball Association (NBA) announced new rules to limit these types of actions in games and penalize offensive players using unfair methods to draw fouls.
What is a three-point play in basketball?
A three-point play happens when an offensive player is fouled while making a field goal worth two points, then makes their free throw shot worth one point. This gives them a total of three points for the play.
This is a specific term used to describe an and one play where the original basket made is worth two points. It's not the same thing as a traditional three-point field goal where a player makes a basket worth three points from beyond the three-point line.
What is a four-point play in basketball?
A four-point play happens when an offensive player is fouled while making a three-point field goal, then makes their free throw shot worth one point. This results in a total of four points for the play.
Generally, 4-point plays aren't as common as a 3-point plays in basketball games. However, these situations provide an even greater opportunity to turn the momentum of the game in a team's favor.
Which NBA players have the most four-point plays?
Four-point plays are not officially tracked statistics in the NBA. However, some of the current and past basketball players in the league with a high number of four-point plays include:
James Harden
Jamal Crawford
Stephen Curry
J.J. Redick
Damian Lillard
Reggie Miller
Kobe Bryant
Kevin Durant
Dirk Nowitzki
Ray Allen
Players who frequently make four-point plays possess good shooting skills to successfully make three-pointers while getting fouled and are reliably accurate from the free throw line.
Is and 1 a foul call?
An and one results from a personal foul. Defenders are charged with this type of foul when they engage in illegal physical contact while trying to prevent an opponent from scoring. An and one shot resulting from a technical foul rarely occurs in high school, college and professional basketball.
"And one" isn't actually the name of a foul call, however. Instead, it's the term used to describe the outcome of one foul when a player has a free throw shot awarded to them.
What is the penalty for an and one?
The penalty for a defender who fouls a player as they're shooting is one free throw shot for the offensive team, which in this situation is called an and one.
What happens after an and one free throw?
If an and one free throw shot goes in the basket, the opposing team gets possession of the ball. They must complete an inbounds pass to put the ball back into play.
When a player's and one free throw shot doesn't not go in the basket, but it touches the rim, the ball is considered live. Any player can try to rebound it to gain possession of the ball. If the free throw shot misses the rim completely, it's a dead ball. In this situation, possession of the ball is awarded to the other team, who must put it back into play with an inbounds pass.
Examples of how and one is used in commentary
1. After dribbling toward the net, Myles Turner puts up a shot, makes contact and makes it for an and one. With that shot and foul, he has a chance to make this a three-point play for the Indiana Pacers.
2. Following the timeout, Thompson immediately assists Curry, who is fouled on a successful three-pointer. He makes the and one, and the four-point play puts the Warriors back in the lead with just minutes to go in this playoff game.
SportsLingo goes the extra-inch with and one
The "and one" play, or three-point play, is also commonly called the "old-fashioned three-pointer." The origin of this term is that before the three-point line was implemented in the 1960s for professional basketball and in the 1980s for college basketball, there was no other way that a player could score three points in a single shot attempt.
When the three-point shot isn't working for a team in the game, and they're down by significant points, one strategy they may implement is to constantly drive toward the basket, with the hopes of making the basket and getting fouled. At the very least, if they are fouled but don't make the shot, they would still be granted two free throw attempts.
Sport the term is used
1. Basketball
Also seen as:
1. And 1
2. Old-fashioned three pointer