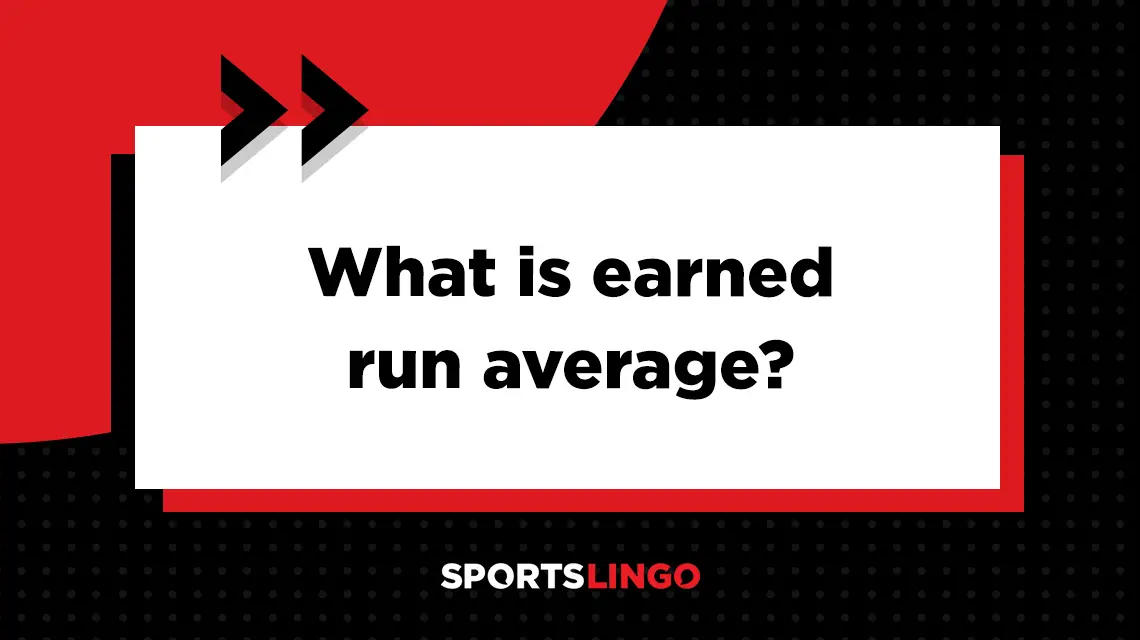 earned run av*er*age
What is the definition of earned run average (ERA) in baseball?
1. Earned run average, or ERA, is a baseball statistic that represents the average number of earned runs given up by a pitcher per nine-inning game.
What does ERA stand for in baseball?
ERA is an acronym that stands for earned run average. The ERA meaning in baseball refers to how many runs a pitcher allows on average in each complete game.
What is ERA in baseball?
ERA is used to evaluate a pitcher's performance, and it is considered one of the most important pitching statistics in baseball.
What counts as an earned run?
Earned runs are runs for which a pitcher can be held fully responsible. To be counted toward a pitcher's ERA, a run cannot result from any defensive errors or passed balls. Runs not counted in a pitcher's ERA are called unearned runs.
What counts as an unearned run?
Unearned runs are run which are scored as the result of an error or a passed ball. Pitchers aren't held responsible for unearned runs, which is why they are not factored into the pitcher's earned run average. It is up to the official scorer to determine whether a run is earned or unearned.
How do you calculate ERA?
An ERA is calculated by dividing the total number of earned runs by the total number of innings pitched, then multiplying by nine and rounding to two decimal places. For professional baseball pitchers, an ERA of 2.00 or less is highly desirable.
For example, the ERA calculation for a pitcher who has allowed 50 earned runs in 200 innings pitched is as follows:
Is a higher ERA in baseball better?
Since a lower ERA means fewer runs have been scored against a pitcher, a low ERA is a better than a high ERA. Therefore, a low ERA is one of the factors that indicate a good pitcher.
What is a good ERA in baseball?
A good earned run average has varied from generation to generation. For example, in the early eras of the game, such as the early 1900s, a good ERA was considered to be in the low 2.00 area.
With all the rule changes that have evolved over the years to help favor batters, the number for a good ERA has increased. In today's game, a good ERA is considered to be 3.00 or lower. This is due to the talent of hitters and the greater emphasis on new technology to help hitters in their conditioning and training.
What is the average ERA in baseball?
In Major League Baseball (MLB), the average era is generally around 4.00 to 5.00. Once a pitcher's ERA rises above 5.00, their skills may be called into question.
Is a 7.00 ERA good?
An ERA of 7.00 is considered to be very poor. Even in professional baseball, where pitchers face some of the best hitters in the world, a 7.00 ERA is quite bad. Pitchers may lose their spot in the lineup if they consistently have an ERA around this number.
What is the lowest ERA in MLB history?
Ed Walsh holds the record for the lowest career ERA in Major League Baseball history with an ERA of 1.816. This Baseball Hall of Famer pitched from 1904 to 1917 for the Chicago White Sox and Boston Braves.
The players with the all-time lowest ERAs in the MLB are:
Ed Walsh: 1.82
Addie Joss: 1.89
Jim Devlin: 1.89
Jack Pfiester: 2.02
Smoky Joe Wood: 2.03
Who has the lowest ERA in the live-ball era?
The live-ball era started in 1920 when some major rule changes were put into effect in the MLB. Beginning that season, balls could not be used in baseball games once they became scuffed or dirty, and pitchers were no longer permitted to alter the ball in any way (like putting dirt or spit on it). This made the ball easier for hitters to detect, which resulted in more hits and livened up the game, so to speak.
As a result of these rule changes, pitchers' ERAs began to increase. Hitters were more successful during their at-bats, which led to more runs being scored. No pitcher has been able to achieve an ERA as low as any of the top five lowest ERAs from the dead-ball era (the years before 1920).
The five lowest ERAs in the live-ball era as of 2022 are:
Mariano Rivera: 2.21
Clayton Kershaw: 2.49
Hoyt Wilhelm: 2.52
Jacob deGrom: 2.55
Whitey Ford: 2.75
Who has the lowest single-season ERA in the MLB?
The single-season ERA leader from MLB history is Tim Keefe, who had an ERA of 0.86 while playing for the Troy Trojans in 1880 — his first season of pro baseball.
However, at this time, the pitcher only threw from 50 feet, while today's pitchers throw from 60 feet 6 inches. Therefore, the record-holder for the lowest single-season ERA in the MLB's modern era is Dutch Leonard, who had an 0.96 ERA in 1914 while playing for the Boston Red Sox.
Bob Gibson is the single-season ERA leader from the live-ball era in the MLB. His ERA of 1.12 was achieved while pitching for the St. Louis Cardinals in 1968.
Lowest single-season ERA in the Negro Leagues
Two players in the Negro Leagues actually topped both Tim Keefe and Dutch Leonard for the lowest ERA stats. The lowest single-season ERA was achieved by Robert Keyes in 1944. Keyes had an ERA of just 0.64 while pitching for the Memphis Red Sox in at the time of his record-setting season.
The next lowest single-season ERA belonged to Red Parnell, another Negro leagues pitcher. He had an ERA of 0.83 in 1932 while playing for the Monroe Monarchs.
Who has the worst earned run average in MLB history?
One of the players with the highest ERA in Major League Baseball history (with a significant number of innings played) is Bobby Witt. During his MLB career from 1986 to 2001, he pitched for a number of teams, including the Texas Rangers and Oakland Athletics. Although he had impressive power as a pitcher and could throw an intimidating fastball, Witt's accuracy wasn't as sharp. This led to a career ERA of 4.83 over the course of 16 seasons.
Some of the other MLB players with above average ERAs include:
Jamey Wright: 4.81
Jaime Navarro: 4.72
Jeff Suppan: 4.70
Pedro Astacio: 4.67
Esteban Loaiza: 4.65
Aaron Sele: 4.61
Scott Erickson: 4.59
Livian Hernandez: 4.44
Terry Mulholland: 4.41
While there are other pitchers who have higher ERAs than those listed above, many did not have substantial careers in professional baseball by the numbers. Pitchers who performed poorly enough to earn high ERAs exceeding that of Witt often don't rack up as many innings played. All of the pitchers listed above, however, had long-running careers with over 2,000 innings played.
Who invented the ERA stat?
Henry Chadwick created the earned run average statistic. He devised this method of evaluating pitchers in response to the increased use of relief pitchers in the game beginning in the early 1900s. Before that, pitchers were often measured by their overall win-loss record since they typically pitched for the entire game. But as more relief pitchers were used, it was harder to attribute a win or loss to one pitcher since two or more would participate in the game.
After the use of the earned run average statistic became commonplace, baseball statisticians retroactively computed ERA stats for years prior to its implementation.
Chadwick later became known as the "Father of Baseball" and was inducted into the Baseball Hall of Fame. He also created box scores as a baseball scorekeeping method, came up with the abbreviation of K for strikeouts, and invented the batting average statistic.
Is ERA a good metric for evaluating pitchers?
ERA is the baseball statistic most commonly used by statisticians to evaluate a pitcher's effectiveness on the mound. It provides a more accurate assessment of how well a player pitches when compared with a simple win-loss record.
However, earned run average isn't without it's limitations. Designated hitters, relief pitchers and ballpark location can all affect ERA in unique ways.
Designated hitters
Since 1973, the American League (AL) has used designated hitters, which means that another player bats in place of the pitcher. The National League (NL), however, only adopted the use of designated hitters in 2022.
Pitchers have historically been the weakest batters on a team who don't have . Prior to the use of designated hitters becoming universal in the MLB, this gave NL pitchers an advantage in terms of their ERA since pitchers typically don't score as many runs for their team compared to other players in the lineup.
Relief pitchers
The ERA stat isn't considered to be as accurate when evaluating the abilities of relief pitchers. These players often only play for short periods of a game. In some cases, they may only be on the mound for part of an inning.
When relief pitchers come out of the bullpen, they're able to concentrate their efforts on only a small number of outs compared to starting pitchers, who need to keep up their performance over the course of many innings or a full game. This means that relievers often have lower ERAs compared to starters.
Ballpark location
Certain MLB ballparks are more conducive to scoring home runs. For example, the high altitude and thin air at Coors Field, home of the Colorado Rockies, means that more home runs are scored there than in other ballparks. Higher winds in Chicago make U.S. Cellular Field, the home of the White Sox, another great place to score homers.
The layout of other ballparks shortens the distance required to secure a home run. New York's Yankee Stadium, for instance, has a short right field that extends just 314 from home plate with only an 8-foot wall behind it.
If a pitcher's home field makes it easier for their opponents to score home runs, it may negatively affect their ERA.
Sabermetrics and ERA
Some sabermetric researchers have explored other methods of evaluating a pitcher's skills in an effort to develop a stat that is more accurate than ERA when it comes to defensive performance. With the way ERA is calculated, a pitcher who is backed by a poor or average defense is at a disadvantage to a pitcher on a team with a strong defense.
The new statistical calculations are generally grouped in a category known as defense-independent pitching statistics (DIPS). The idea behind DIPS is to try to measure a pitcher's skill by removing as many outside influences as possible, particularly the performance of other fielders besides the catcher.
In 1999, a baseball sabermetric researcher named Voros McCracken created a new statistic called defense-independent ERA (dERA). This statistic has a very complicated formula which requires the use of the following stats:
Batters faced (BFP)
Home runs allowed (HR)
Total walks allowed (BB)
Intentional walks allowed (IBB)
Strikeouts (K)
Hit batsmen (HB)
The concept behind this stat is that pitchers have limited control over what happens to a ball put into play against them due to factors like the defense's performance and sheer luck. Instead, dERA uses are three primary factors to predict a pitcher's abilities: walks, strikeouts, and home runs.
In 2001, baseball researcher Clay Dreslough created a related stat called defense-independent component ERA (DICE). Dreslough's calculation uses many of the same components of dERA and also aims to measure pitching performance without the influences of the defense. It primarily weighs home runs, walks, strikeouts and hit batters to estimate a pitcher's ERA.
Examples of how earned run average (ERA) is used in commentary
1. Maddux is perfect yet again tonight, pitching a shutout against the Los Angeles Dodgers to lower his ERA to a league-leading 1.98.
Sports the term is used
1. Baseball
2. Softball
Abbreviated as:
1. ERA
----------------------------------------------------------------------------------------------------