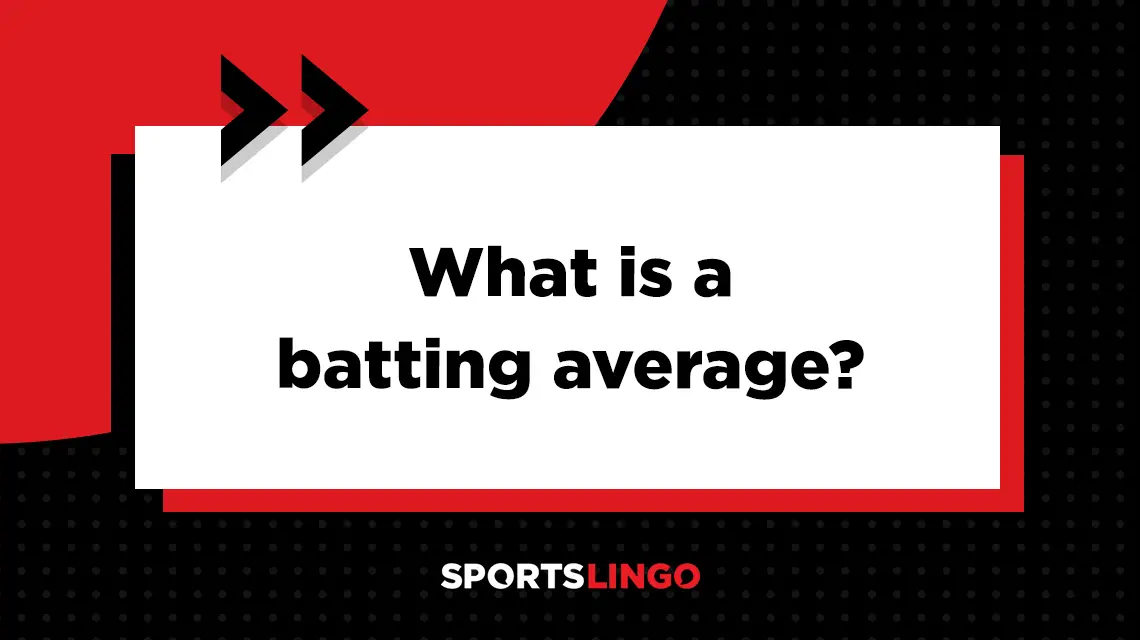 bat*ting a*ver*age
What is the definition of batting average in baseball?
1. In baseball, batting average is a measure of a batter's likelihood to get an official hit when they have an at-bat. Batting average is abbreviated as BA or AVG.
In order for a plate appearance to result in a hit, the player must get on base without registering a walk or without it being due to an error by the defensive team.
How do they measure batting average in baseball? 
Batting average in baseball is a percentage of the number of times a player comes to bat versus the number of hits they get. To calculate batting average, the number of hits is divided by the number of plate appearances.
For example, if a baseball player comes up to bat 10 times and records 3 hits in those 10 at-bats, they will have a batting average of .300 (3/10 = .300). This means they get a hit 30% of the time.
Although batting average is written with a decimal point, it is spoken aloud without the decimal. For example, a batting average of .300 is expressed as "batting three hundred."
Does a walk hurt your batting average?
A player's batting average only includes successful hits during at-bats. Plate appearances which don't result in a hit are not counted toward a player's BA.
The following are excluded when calculating batting average:
Interestingly, walks were counted as hits for one season in 1887. After that, the MLB stopped included walks or any other methods besides hits used to reach base in batting average calculations.
What do batting averages mean?
A player's batting average represents their performance at the plate. A higher average indicates that a player is a strong hitter, while a lower average indicates a weak hitter.
Batting averages are also used to evaluate a pitcher. In this case, the statistic is called batting average against (BAA), which is the number of hits against a single pitcher divided by the total number of at-bats against them.
Is batting average a good measure of performance?
Although batting average can be a useful statistic for comparing players, there are some limitations to its value in assessing an individual player's hitting ability. For example, different types of hits (singles, doubles, triples and home runs) are not weighed when calculating BA. Theoretically, two players could have identical batting averages for the same number of plate appearances, but one could hit a home run at every at-bat while the other only gets a single each time.
Baseball analysts also find that batting average is not a good indicator of how a player's at-bat performances contributes to the number of runs scored.
What is a better stat than batting average?
To evaluate batters, many analysts prefer to use on-base plug slugging percentage (OPS), a statistic combining on-base percentage with slugging percentage, instead of batting average. OPS is thought to better demonstrate not only how often a player gets hits, but how powerful their hits are and whether they are able to draw walks from the pitcher.
Another statistic thought to better demonstrate a player's ability is wins above replacement (WAR). This baseball state represents how many additional wins a team has as a result of a player's contributions, including their batting, fielding and baserunning. The figure serves as a comparison with the expected wins a team would have if a replacement-level Minor League player or free agent was substituted in for the player being evaluated.
What is a good batting average?
In professional baseball, the batting average across the entire MLB is around .250, meaning that players get a hit about 25% of the time when up to bat.
An above-average record for batting average would be around .275, while a batting average of .300 or higher is considered to be outstanding. In a typical season, only a handful of players achieve a batting average of .300 or more.
What does a batting average of .300 mean?
A batting average of .300 means that a player gets a hit 30% of the time. It is considered to be a very high batting average in the MLB.
What is a .500 batting average?
A .500 batting average means that a player gets a hit in 50% of their total at-bats.
Has anyone had a .500 batting average?
No player has achieved a .500 batting average over a substantial career in Minor League Baseball or MLB history. This type of statistic may be achievable in college or high school baseball.
What is the batting average for a perfect game?
If a player has a perfect game in terms of their at-bats, they would have a batting average of 1.000. This is the best batting average possible which indicates that the player got a hit at 100% of their at-bats.
What is a good batting average in softball?
A good softball batting average is around .280 to .300. Generally, a batting average of .400 or higher is considered outstanding in softball.
What is the highest batting average in MLB history? 
Baseball Hall of Fame center fielder Ty Cobb (retired in 1928) holds the record for highest career batting average in Major League Baseball (MLB) history at .366.
Rogers Hornsby (retired in 1937) is second at .358, and "Shoeless" Joe Jackson (banned from baseball in 1919) is third at .356.
Hugh Duffy achieved the highest single-season batting average of .440 in 1894 while playing for the Chicago White Stockings (the name later adopted by the Chicago White Sox).
A few players have achieved higher career batting averages, but only with a very limited number of at-bats in their career. For example, John Paciorek played only one game for the Houston Colt .45s in 1963, and had base hits at all three of his at-bats to earn a perfect 1.000 BA. Because his career was so brief, however, this stat isn't considered when ranking which players hold the highest career batting average.
Notable top 50 batting average career leaders
The following are some of the players with the top career batting averages in MLB history:
Ty Cobb (.366)
Ted Williams (.344)
Babe Ruth (.342)
Lou Gehrig (.340)
Tony Gwynn (.338)
Nap Lajoie (.338)
Wade Boggs (.328)
Hugh Duffy (.326)
Kirby Puckett (.318)
Vladimir Guerrero (.318)
Who has the highest batting average in recent years?
The highest batting average in a recent MLB season was achieved in 2020 by DJ LeMahieu of the New York Yankees. From 2010-2022, he had the highest single-season batting average of .364.
Josh Hamilton had the second-highest season batting average (.359) in that span while playing for the Texas Rangers in 2010.
LeMahieu also led the league in batting average in 2016 as a member of the Colorado Rockies, setting the mark for the third-highest batting average from 2010-2022. He had a .3478 batting average in 2016 compared to Miguel Cabrera's .3477 batting average for the Detroit Tigers in 2013.
What is the batting title?
Each year, the MLB player in each league with the highest batting average for that season wins the batting title. In the American League (AL), the winner is dubbed the Rod Carew American League Batting Champion. The winner in the National League (NL) is the Tony Gwynn National League Batting Champion.
What is the lowest batting average in baseball history?
The lowest career batting average record is held by Bill Bergen, who played for the Cincinnati Reds and Brooklyn Dodgers from 1901 to 1911. Though skilled as a defensive catcher, Bergen was one of the worst offensive players in MLB history. His career batting average was just .170.
As of the 2022 season, Chris Davis holds the record for the lowest single-season batting average in MLB history. While playing first base for the Baltimore Orioles in 2018, his BA was just .168 over 522 plate appearances.
What is the Mendoza Line?
The Mendoza Line is a term used to describe the .200 batting average threshold in the MLB. The name comes from Mario Mendoza, who played shortstop for the Pittsburgh Pirates, Seattle Mariners and Texas Rangers during his professional career. Mendoza carried a BA of around .200 while playing for the Mariners in 1979. Bruce Bochte and Tom Paciorek, two of his teammates at the time, came up with the term "Mendoza Line" to tease him about his low batting average.
Mendoza ultimately had a career batting average of .215, but the Mendoza Line still refers to a BA of .200. When a player's batting average falls under .200, they are said to be below the Mendoza Line.
Which position usually has the worst batting average?
Typically, pitchers are some of the weakest hitting players in a team's lineup. For this reason, the pitcher is often placed last in a team's batting order in leagues which do not have a designated hitter rule.
When was batting average invented?
An English statistician named Henry Chadwick came up with the idea of batting average in baseball in the late 19th century. He developed a way to use the idea of cricket batting average and apply it to baseball. Cricket batting average is taken from runs scored divided by outs, but Chadwick found that using hits divided by at-bats was a more accurate measure of a player's skill in baseball.
Chadwick contributed significantly to the process of official score-keeping in baseball. He was eventually inducted into the Hall of Fame and is often remembered as the "Father of Baseball."
What does batting 1,000 mean?
When someone is said to be "batting a thousand," it means that they're experiencing immense success in one or more areas of their life. "Batting a thousand" can also be used to express that someone has a perfect record in something.
This phrase is a direct reference to the batting average statistic in baseball. A batting average of 1.000 is typically expressed as "1,000" in baseball, which indicates that a batter gets hits during their at-bats 100% of the time. Therefore, the idea of batting a thousand implies perfection in a particular pursuit.
What is the triple crown in batting?
An MLB player earns the triple crown in batting if, at the end of the season, they are the American League or National League leader in all three of the following baseball statistical categories:
Batting average (BA)
Home runs
As of 2023, there has only been one winner of the triple crown in batting since 1967, which is well over a half century ago. This batting title is very rare in modern-era baseball, due in part to the fact that teams today use relief pitchers much more frequently than in the past. Hitters often face two or more different pitchers per game. When a pitcher is substituted into the game, they have a fresh arm that can make their pitches more successful. In addition, frequent pitching changes makes it harder to anticipate what's coming across the plate, even for good hitters.
The 10 most recent winners of the triple crown in batting are:
2012: Miguel Cabrera, Detroit Tigers (AL)
1967: Carl Yastrzemski, Boston Red Sox (AL)
1966: Frank Robinson, Baltimore Orioles (AL)
1956: Mickey Mantle, New York Yankees (AL)
1947: Ted Williams, Boston Red Sox (AL)
1942: Ted Williams, Boston Red Sox (AL)
1937: Joe Medwick, St. Louis Cardinals (NL)
1934: Lou Gehrig, New York Yankees (AL)
1933: Chuck Klein, Philadelphia Phillies (NL)
1933: Jimmie Foxx, Philadelphia Athletics (AL)
The MLB also honors a triple crown in pitching if one player leads the league in wins, strikeouts and earned run average (ERA).
What is the triple slash line?
The triple slash line refers to the way the three main baseball batting statistics are typically presented.
The three statistics used with the slash line are:
A player's stats are often shown with slashes in between: BA/OBP/SLG. Additionally, the term "slashed" is sometimes used in reference to a player's slash line. For example, a baseball fan or announcer might say, "He slashed .340/.410/.520 this season."
Example of batting average used in commentary
1. Known for his patience at the plate and a keen eye for balls and strikes, Tony Gwynn is one of the most successful hitters in Major League Baseball history.
Sports the term is used
1. Baseball
2. Softball
Abbreviated as:
1. BA
2. AVG