bat*ting a*ver*age
What Is The Definition of Batting Average In Baseball?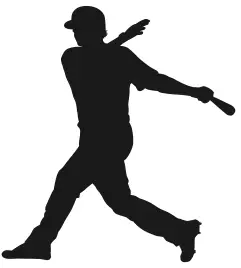 1. In baseball, batting average is a measure of a batter's likelihood to get an official hit when they have an at-bat.
In order for a plate appearance to result in a hit, the player must get on base without registering a walk or without it being due to an error by the defensive team.
How Do They Measure Batting Average In Baseball?
Batting average in baseball is a percentage of the number of times a player comes to bat versus the number of hits they get. To figure out batting average, the number of hits is divided by the number of plate appearances.
For example, if a player comes up to bat 10 times and records 3 hits in those 10 at-bats, they will have a batting average of .300 (3/10=.300). This means they get a hit 30% of the time.
What Is The Highest Batting Average In MLB Baseball History?
Ty Cobb (retired in 1928) holds the record for highest career batting average at .366.
Rogers Hornsby (retired in 1937) is second at .358 and "Shoeless" Joe Jackson (banned from baseball in 1919) is third at .356.
Notable Top 50 Batting Average Career Leaders
Ted Williams

(.344)

Babe Ruth

(.342)

Lou Gehrig

(.340)

Tony Gwynn

(.338)

Wade Boggs

(.328)

Kirby Puckett

(.318)

Vladimir Gurrero

(.318)
Who Has The Highest Batting Average In Recent Years?
From 2010-2021, the highest batting average in an MLB season was achieved in 2020 by DJ LeMaheiu of the New York Yankees. He had a season batting average of .364.
Josh Hamilton had the second-highest season batting average (.359) in that span while playing for the Texas Rangers in 2010.
LeMaheiu also led the league in batting average in 2016 as a member of the Colorado Rockies, setting the mark for the third-highest batting average. He had a .3478 batting average in 2016 compared to Miguel Cabrera's .3477 batting average for the Detroit Tigers in 2013.
Example Of Batting Average Used In Commentary
1. Known for his patience at the plate and a keen eye for balls and strikes, Tony Gwynn is one of the most successful hitters in Major League Baseball history.
Sports The Term Is Used
1. Baseball
2. Softball
Abbreviated As:
1. BA